Directions: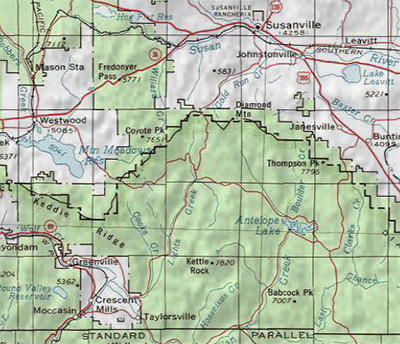 From Greenville, on Hwy 89; go South 5 miles to Beckwourth Greenville Rd. Turn East, go 16 miles to Indian Creek Road, Turn North, go 10 miles to the Lake. Located 30 miles northeast of Taylorsville on the Genesee-Antelope Lake Road, or from Janesville take County Road 208 for 4 miles, FS road 28N01 for 9 miles, turn right on FS road 28N03 for 2 miles. Supplies including groceries, ice, bait, and souvenirs are available from Memorial Day - Labor Day.
Notes:

Antelope Lake is at 5,002 feet elevation. The lake covers 930 acres with over 15 miles of shoreline. It was created in 1964 with an earthen dam spanning Indian Creek. The lake is owned by the State of California , is part of the State Water Project and it was created primarily for recreational use. Four campgrounds are available. There is access at Guiney Point, Lunker Landing and Eagle Lookout. Antelope is primarily a warmwater lake due to the panfish, bullheads, and bass that compete against the trout. It has been poisoned numerous times by Fish and Game to reduce the warmwater species, without success. The lake has a good population of smallmouth and largemouth Bass. It is still planted heavily with Eagle Lake Rainbows and Brookies. The lake also contains Kokanee Salmon and Browns. Weedbeds line the shore so it is difficult to wade. Float Tubing would be best. Work just outside the weedbeds using a sink-tip or full sink line. Wooly Buggers and Damsel Nymph patterns are popular here. Popular inlets of Antelope Lake are Lone Rock Creek, Boulder Creek, Lost Creek, Antelope Creek, and Little Antelope Creek.

Indian Creek is full of brown trout. The Indian Creek Road follows the creek up to Antelope Lake. This gives you about 5 miles of easily accessed stream. The creek is best fished during the Spring when Antelope Lake has stopped spilling over. During the summer there are hatches of Yellow stones, tan caddisflies, and pale morning duns.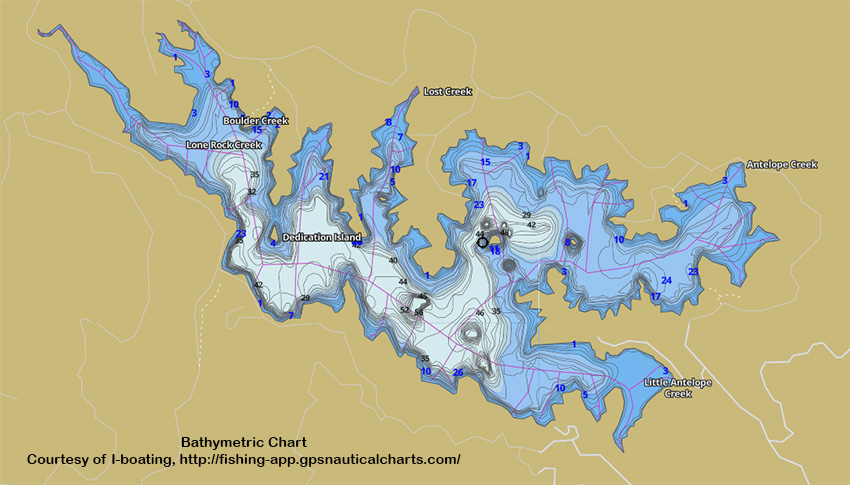 Fishing Regulations (Effective March 1st, 2021)
Antelope Lake:
Open all year. No restrictions. 5 fish limit. Ten in Possession
Antelope Lake Tributaries
Saturday preceding Memorial Day through September 30th. 5 trout, no gear restrictions. Summer fishing only to protect Spring and Fall Spawning.