Directions:
To Baxter Pass Trailhead from Highway 395, approximately 2 miles north of Independence, CA:
Turn West onto Fish Hatchery Road.
Turn right onto North Oak Creek Road, at the fork about 1 mile from the highway.
The Baxter Pass Trailhead is at the end of North Oak Creek Road, about 5 miles from Highway 395.
.
Notes: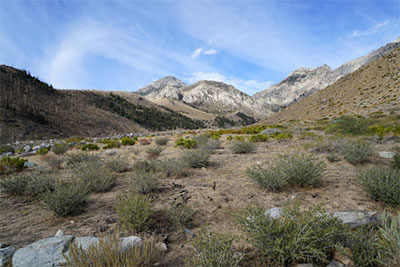 Baxter Pass Trail climbs over 6,000 vertical feet from the desert to the crest of the Sierra Nevada. Beginning at an elevation of 6,000 feet, it ascends to 12,300 foot Baxter Pass in 7.2 miles. At the top of the pass, the trail enters Kings Canyon National Park. Due to its challenging nature, Baxter Pass Trail is visited relatively infrequently. It is steep, rugged and infrequently maintained. The first 3.5 miles of the trail pass through an old burn area. In this area, the trail is occasionally blocked or obscured by fallen trees or brush. Baxter Pass Trail is relatively snow free from approximately June through October. The rest of the year, ice or snow may cover some or all of the trail. The road to the trailhead is not maintained in winter. The trailhead is usually accessible, but road conditions are occasionally poor. Permits are required for overnight trips. Obtain permits at any Inyo National Forest ranger station of visitor center.
From Baxter Pass you drop into the Baxter Lakes area of Kings Canyon National Park.
Upper Baxter Lake: (65 acres) Contains Brookies and Golden Hybrids
Dragon Lake: (23 acres) This 11,080' elevation lake is about 6 mile below Baxter Pass, just east of Rae Lakes. Very scenic lake consisting of small Brookies 4-6 inches.



Fishing Regulations (Effective March 1st, 2021)
All lakes within John Muir Wilderness:

Open all year. No restrictions. 5 trout per day. 10 trout in possession.

All creeks and tributaries:

From the last Saturday in April through November 15, five trout daily bag limit, 10 trout in possession; and, from November 16 through the Friday preceding the last Saturday in April, 0 trout bag limit, artificial lures with barbless hooks only and trout must be released unharmed and not removed from the water.