Notes: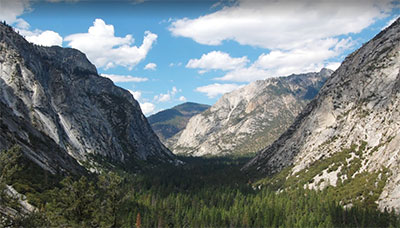 Kings Canyon stopped all fishing planting in the 1980s. Up until that time about 80% of the lakes contained trout, mostly Goldens and Rainbows. With the cessation of fish planting only those trout populations that had a decent spawning stream and adequate food supply were able to survive.
Bubbs Creek: Starting at the confluence of SF Kings river, the Bubbs Creek trail follows the creek to the intersection of the Pacific Crest Trail near lower Vidette Meadow. From the Bailey Bridge to the bridge that spans Sphinx Creek, Bubbs is a rushing torrent. Above the Sphinx Creek bridge the creek becomes a fast moving stream of plunge pools and rapids up to Charlotte creek confluence. Above the Charlotte Creek confluence will be small rainbows, 6-7" to Junction Meadow.
Sphinx Lakes: Take the Avalanche Pass trail at the confluence of Bubbs and Sphinx Creek. Go off-trail where the trail crosses Sphinx Creek and follow the creek south for 1.3 miles to the first lake, about a 1000' gain at 9600' elevation. Continuing another 1 mile southerly will reach the largest of the Sphinx Lakes at 10,500' elevation. Rainbows up to 15".
Big Brewer Lake: Best reached from Sphinx Lakes all off-trail. About 3.3 miles for the largest Sphinx Lake (10,500') going over Sphinx Pass (12,000') and dropping down to Big Brewer Lake at 11,000' elevation. Rainbows up to 16".
North Guard Lake: Take the Bubbs Creek trail to the confluence of North Guard Creek. The confluence is at 7400' elevation. Follow of North Guard Creek off-trail for 1.8 miles to the outlet of North Guard Lake at 10,100' elevation. 'North Guard' and 'South Guard' were named by Lt. Milton F. Davis; they are on his map of 1896. The mountain and creek are named on the first Mt. Whitney 30' map, 1907. The lake was named in 1956 by J. Hoganson, a field-man for the USGS. This lake is considered fishless,
East Lake: At the Bubbs Creek Trailhead, go 8.5 miles to Junction Meadow. Turn right onto the East Lake Trail, cross Bubbs Creek, continue for another 3 miles to East Lake. Browns up to 18".
Reflection Lake: From East Lake, climb the final 2 miles to Lake Reflection. Small Golden Hybrids.
South Guard Lake: Follow the use trail along the northwest side of Lake Reflection, going southwest along the outlet streams up to Lake 3496. Staying on the northwest side of the lake proceed up to Longley Pass (just under 12,500'). There is usually a snow barrier just below the top of the pass which becomes hard ice in late season. South Guard is 0 .8 miles down from the pass, 3.5 miles from Lake Reflection. This lake is considered fishless.