Life Cycle: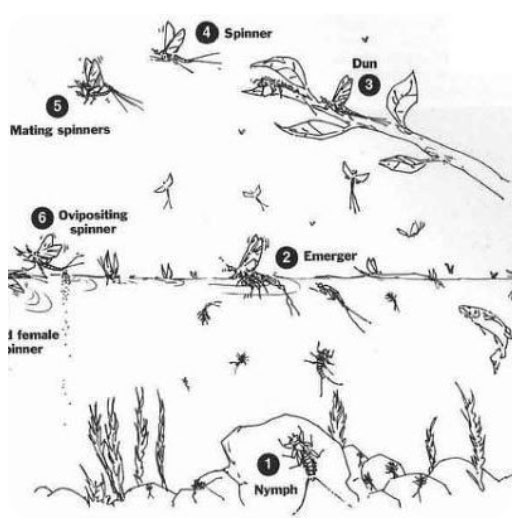 The Blue Wing Olive mayfly begins its life cycle on the bottom of the stream or river as a nymph. BWO are swimmers so the nymphs are torpedo-like in shape and can quickly swim to the surface once they are ready to "hatch". Once the nymph reaches the surface the nymph has to penetrate the surface film with the top of its back and split open. The dun emerges from the nymphal shuck and lofts into the air or may ride on the surface with extended legs as the wings dry before lifting off for streamside vegetation. The BWO's are rather small in sizes 16 to 20. From the vegetation, the duns will molt into spinners and the males and females will mate with the female returning to the water surface to lay eggs. Some will actually swim back down to the river bottom and lay the eggs directly on the streambed. The females will expire on the surface with it's wings outstretched, this is known as the "spinner fall".
Blue Wing Olive nymphs only have a 4 month life cycle so there may be 2-3 generations of BWO's each year. As a dun or spinner, the stage is only 24-48 hours. The nymphs are dark brown to a light tannish olive in coloration with two tails and a short center tail. Normally in sizes 16-20. The hatches occur in late September and continue through November and then again in the Spring during March through June. Most of their life are in the larval stage within the cobbles and aquatic vegetation of the stream. Once the nymph matures, the nymph will drift and swim near the substrate of the streambed. This is when the nymph is most vulnerable to the trout. Fish the nymphs deep along the bottom or high in the water column just before the hatch. BWO's like slow to moderate currents such as runs and back eddies. Fishing below the foam lines is often a good choice.
Within the nymph fly category, Blue Wing Olives are well represented by Pheasant Tail Nymphs, A.P. Nymph, Barr's Emerger, Wonder Nymph, Hare's Ear Nymph, Hogan's S&M Nymph, and Pheasant Tail & Partridge Soft Hackle. A Zebra midge can also be a good choice to mimic the pupa stage acsending to the surface.
Concentrate on the surface film with unweighted nymphs and emergers. Weighted nymphs works well near the bottom prior to the hatch and using a PT Soft Hackle with a Zebra dropper is great on the swing. Using a tight line nymphing technique will be much more effective than a dead-drift.