Notes: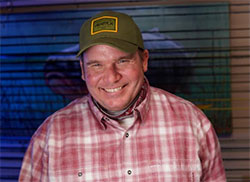 The Circus Peanut was designed by Russ Madden in the year 2000 when Russ was a 19 year old, working for Kelly Galloup at his fly shop, Troutsman Fly Shop, in Traverse, Michigan. Kelly was ecstatic about the pattern as he considered it one of the finest articulated streamer patterns he has used. The pattern came west, and was used on big waters like Wyoming's North Platte and Montana's Bighorn River. You can adapt the pattern using smaller hooks for our Sierran streams.
The head of the fly was patterned after a woolly sculpin but weighted heads, using Lead Painted Eyes, became popular. The broad profile of the head will slow down the front half of the fly, allowing the back portion to catch up and show articulation. One of the features of this pattern that makes it unique is that it uses rubber legs, probably one of the first streamer patterns to incorporate rubberlegs. The original pattern had four sets of legs, two within each body section. That's a lot of legs! Later adaptations toned that down to two or three sets. This provided action as seen with nymphs but now utilized within a streamer. The original pattern had an Estaz body and did not use Schlappen (Chinese Saddles) palmered over the body but the Schlappen soon became popular for filling out the body. With the use of Schlappen, the body material shifted from Estaz to Crystal Chenille. Favorite colorations are Olive, Black, White, and Bright Green.
Kelly Galloup created a variation of the Circus Peanut called the Peanut Envy. He replaced the Estaz body of the original peanut with ice dubbing, and substituted a conehead for lead eyes as the head, still giving it that diving motion that Russ' pattern is so famous for. Kelly added a tuft of marabou behind the head of both hooks to help maintain a little deeper profile. According to Kelly, the Peanut Envy has been fishing just as good, if not better, than the original peanut. George Daniel also came up with a variation that he calls a mix of Circus Peanut and Peanut Envy. Mainly, he transitioned back to a estaz-like body with the use of Polar Reflector Chenille.