Notes: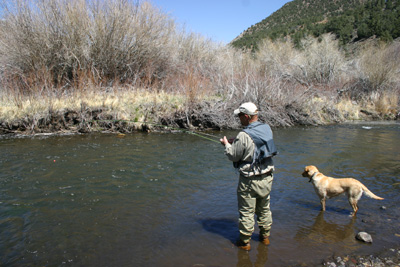 The East Walker originates in the Bridgeport Valley of Mono County and flows as a small stream into Bridgeport Reservoir. Named by Capt John Fremont in 1844 after his guide, Joseph R Walker. Below the Reservoir, the East Walker has been designated as a "Trophy Trout" stream for the 8 miles to the Nevada border. The area just below the reservoir is known as Big Hole, where the reservoir discharges into the river, and the water between it and the Hwy 182 bridge is a artificial lure-only stretch of 1.5 miles, also known as the "Miracle Mile". Two fish limit, and 18" or longer during the regular season of last Saturday of April to Nov. 15th. The season on the EF Walker had been extended to year-round since December 2006 when Winter catch&release only regulations were set by DFW but this was amended in 2021 to just Spring, Summer, and Fall periods due to low flows during the winter months.

The East Walker is a tailwater, freestone stream with long runs and fast riffles and contains an abundance of large Browns and Rainbows. There are deep pools and pocket waters. Water temperature is dependent upon the Bridgeport Reservoir. During drought periods, water flow can be diminished with high stream temperatures for poor fishing. This usually occurs in late August and September. There is a large water flow that occurs on the East Walker in the late Spring and early Summer. During this time you'll need to fish streamers with heavy leaders in the 1X class. When the water drops, you can use large nymph patterns such as the Golden Stone Nymph. Nymph sizes will continue to decrease as the summer extends and the water warms up. The Fall is another good period as the Browns move up to the dam to get ready to spawn. The river contains an abundance of mayflies, stoneflies, caddis and midges along with scuds and minnows. A good Baetis hatch occurs in April and May. For this hatch, use a BWO dun pattern in size #18-20 in the larger pools and back eddies. Generally the hatch comes off around mid-day. May will usually have midday hatches of Skwala Stones and Golden Stones. June is a great month for PMD's and Caddis with midday hatches. Golden Stones will continue to hatch through July. During July, the water is warming up and the fish are seeking the deeper pools. Midges and caddis patterns during the evening hours are good during this period of time. Use a #16 Deer Hair Caddis as a dry indicator with a #22-24 midge emerger pattern as a dropper. In October, a good October Caddis hatch occurs midday with a Black Caddis and Baetis Hatch coming off in the late aftenoon.
The East Walker has flows between 20 to 500 cfs. Flows can vary depending upon irrigation needs downstream. Safe Wading flows are 50-250 cfs. Check the link above for current conditions.


Fishing Regulations (Effective March 1st, 2021)
Walker River, East Fork (Mono Co.) from Bridgeport Dam to Nevada State Line:

Last Saturday in Apr. through Nov. 15. Minimum size limit: 18 inches total length. Only artificial lures may be used. 2 trout.

Bridgeport Reservoir:

Last Saturday in Apr. through Nov. 15. No restrictions. 5 trout per day.

All Lakes and Reservoirs in Inyo and Mono Counties (except Bridgeport Reservoir and tributaries; Convict Lake; Crowley Lake; George Lake; Grant Lake; Gull Lake; Horseshoe Lake; June Lake; Lundy Lake; Mamie Lake; Mary Lake; Rock Creek Lake; Sabrina Lake; Silver Lake; South Lake; Twin Lakes (Mammoth); Twin Lakes, Lower and Upper (Bridgeport); Virginia Lake, Lower and Upper):

Open all year. No restrictions. 5 trout per day. 10 trout in possession.

All other creeks and tributaries:

From the last Saturday in April through November 15, five trout daily bag limit, 10 trout in possession; and, from November 16 through the Friday preceding the last Saturday in April, 0 trout bag limit, artificial lures with barbless hooks only and trout must be released unharmed and not removed from the water.