Directions: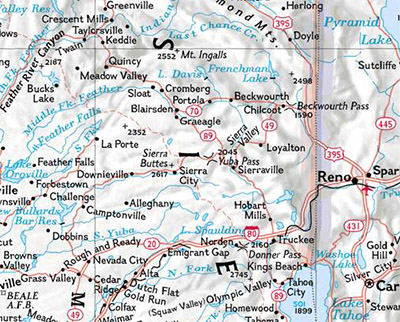 Approximately, 30 miles northwest of Reno Nevada. From Sierraville, on Highway 49-89; take Highway 49 North and go 25 miles to Highway 70 at Vinton. Turn East and go 2 miles to Chilcoot. Turn North and go 7 miles on Frenchman Road, then East across dam to campsites.
Notes: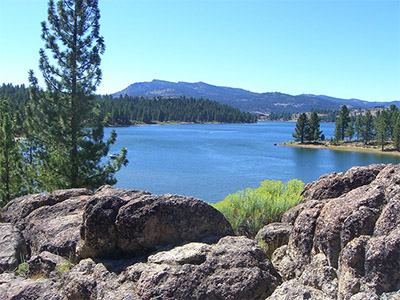 Frenchman Lake (ele: 5588 ft) is a relatively shallow lake of 1,580 acres. it was created in 1961 with the damming of Little Last Chance Creek and named after Claude Francois Seltier, a French immigrant who settled in the area in 1858. Frenchman Lake is stocked mainly with Eagle Lake-strain Rainbows but also contains Kamloop-strain Rainbows, Brookies, Browns, and some catfish. The lake consists of two sections connected by a main channel. The northern section contains weedbeds along the western shoreline of Snallygaster and Nightcrawler Bays and numerous shallow coves within Lunker Bay. These are the prime areas to flyfish as well as the shallow waters of Salmon Egg Shoal. Turkey Point can also be a good area. The southern section that most flyfish are the areas north of the boat ramp and Crystal Point. The lake is open year-round but winter conditions make it unfishable at that time of year.

Frenchman has similar hatches to Davis Lake. In the Spring, Callibaetis and Blood Midges hatch as the weather warms. The fish are generally in 2-6 feet of water, so trolling buggers or slowly retreiving PT and Bird Nest nymphs work well. In mid-June, there is a dominant damselfly hatch that continues until about mid-July. Use a slow retreive of damsel nymphs with an intermediate line. During the summer months, the fish move into the deeper water near the dam. You can fish small bugger patterns and snails with sinking lines in the deeper areas. In the Fall, the larger fish will move back into the shallows to feed on scuds and snails. Stripping snails, Buggers, Leeches, and stillwater nymphs will work well. Callibaetis and Midges will continue to hatch during the Fall and there may be some surface action, particularly during the evening hours. Try Callibaetis drys with a midge pupa dropper on a floating line with a 10' 6x or 7x leader.