Directions: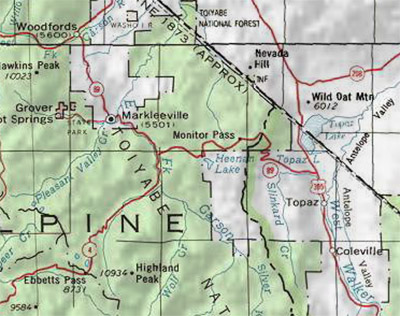 Heenan Lake (EL 7,200') is 8 miles east of Markleeville on Hwy 89. You can reach Hwy 89 (Moniter Pass) from Hwy 395, south of Topaz Lake at Woodfords. It is about 7 miles to Markleeville and another 8 miles to the junction of Hwy 89 and State Route 4, Heenan will be on the right side.

Notes: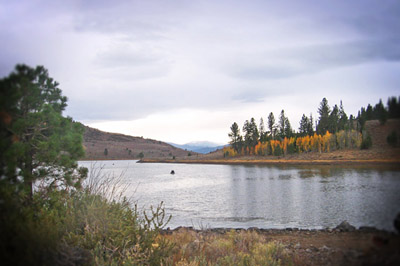 The 135 acre Heenan Lake has been renowned for producing huge Lahonton Cutthroats up to 30" with the average being 16 to 20". The Department of Fish and Game have a station there that take some spawners from the lake for egg collections. These eggs are distributed to a number of other state hatcheries including the Hot Creek Hatchery and Nevada Dept of Wildlife. The hatchlings are restocked into Heenan and over 30 additional Eastern Sierra lakes. The Heenan Lake Lahontons are actually a hybridized strain of the original Lahonton Cutthroats that inhabited Lake Lahonton in prehistoric days. The regulations to Heenan Lake is a strict catch and release on barbless hooks on flies or artificial lures. The season opens on September 1st through November 30th. The tributaries to Heenan are also open to catch & release fishing at this time period. Heenan is ideal for float tubing but has recieved heavy fishing pressure recently due to its reputation for big trout. Algea can be a big problem as well. Trolling streamer patterns of Woolly Buggers, Leeches and Matukus in Black, Purple, or Olive from a float tube has been the favored method to fish Heenan. No gas-powered craft are allowed. It's shallow so an intermediate sinking line is sufficient. Dark colored nymphs in sizes 12-14 such as Pheasant Tails, Bird's Nests, and Prince Nymphs with an indicator also work well. Use a slow retrieve. Recently, using a chironomid pattern has become quite popular when used as a dropper below the nymph from 2 to 6 feet in depth. Allow the rig to sit with an occasional twitch. Generally, an intermediate sinking line is the best bet with a 7-8 foot leader. The Lahontans do not put up as rigorous fight as a similar-sized Rainbow so a leader of 4x to 5X should suffice.

The Lahontans cruise throughout the lake but a popular area is the inlet of Heenan creek at the east end. This is fairly shallow with plentiful weeedbeds. Try casting a nymph pattern into the weedbeds and retrieve slowly. The southern end of the lake is also popular with weed beds usually present.




Fishing Regulations (Effective March 1st, 2021)
Heenan Lake:
Open September 1st through November 30th. Artificial Lures with barbless hooks. 0 trout.
Heenan Lake tributaries:
Open September 1st through November 30th. Artificial Lures with barbless hooks. 0 trout.