Notes: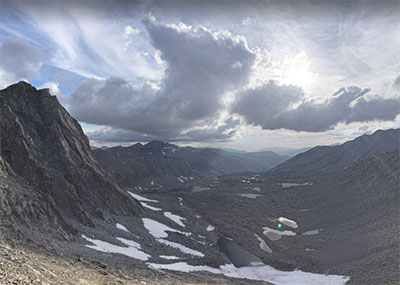 Kings Canyon stopped all fishing planting in the 1980s. Up until that time about 80% of the lakes contained trout, mostly Goldens and Rainbows. With the cessation of fish planting only those trout populations that had a decent spawning stream and adequate food supply were able to survive. The lakes and streams are all above 10,000 feet elevation and many are shallow enough to fully ice through during the winter.
Amphitheatre Lake continues to have rainbows some up to 16 inches but the goal is to eliminate these fish for frog restoration. The remaining lakes within the Amphitheatre basin are fishless. Cataract Creek below Amphitheatre Lake has Golden Hybrids.
Dumbell Lakes: Four lakes each containing Rainbows, 6-8 inches.
Lake Basin is accessed through Cartridge Pass from the SF Kings. The trail going through the pass and down Cartridge Creek to the MF Kings was once part of the John Muir Trail prior to 1938, once the Mather Pass route was completed. The JMT brought many visitors to the Lake Basin in the early 1900's. The original trail below Marion Lake is sketchy and the route is considered a difficult bushwack to the MF Kings, particularly below Triple Falls.
Marion Lake is named after Helen Marion LeConte who accompanied her husband, Joseph LeConte, to this area in 1902. A plaque remains along the shoreline to commerate her explorations. Marion Lake is considered by many as one of the most beautiful lakes within the Sierra. The lake has a deep hue of blue due to the depth and light colored granite that forms it's basin. Marion Lake contains Rainbow trout, 10-12 inches. Not much known about the remaining lakes. Cutter inidcates that the lake at 10,640 has Rainbows. There is a report that Rainbows are within the lake below Cartridge Pass.
Cartridge Creek: Cutter lists Rainbows within Cartridge Creek but the creek is mostly unfishable due to the steep gradient decline. The south fork of Cartridge meets the main creek in a structure known as Triple Falls, forming a barrier to any fish migrating upstream. Rainbows are most likely within the outlet streams of Marion and Basin Lake 10,640.