Directions: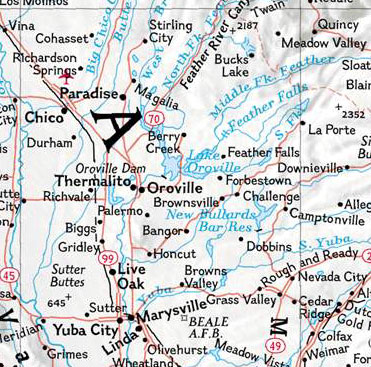 From Sacramento, Lake Oroville is about 74 miles from Sacramento International Airport. From San Francisco, Lake Oroville is about 160 miles and a 2.5 hour drive.
Take Highway 80 East to 99 North near Sacramento. Head north on 99 then take 70 north from 99 towards Oroville. Once you arrive in Oroville, take The Oroville Dam Boulevard exit. Turn right on highway 162 and continue 6.8 miles until you come to Kelly Ridge Drive/Miners Ranch Rd. Turn Left on Kelly Ridge Drive/Miners Ranch Road. Follow signs to boat launch (Turn left on Arroyo) Arroyo goes into the park. Follow road straight to boat launch.
To get to Lake Oroville Marina, continue another 12 miles northeast on Hwy 70 to Pentz Road and continue another 2.5 miles to the marina.
Bidwell Canyon Marina Park is located at 801 Bidwell Canyon Rd, Oroville, CA 95966 Note: There is a $5 entrance fee at the marina for parking and day use.
Notes: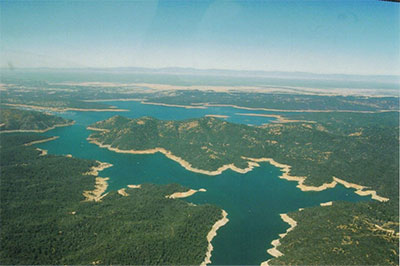 Lake Oroville is the second largest reservoir in California. It covers 15,800 acres with over 167 miles of shoreline. It was completed in 1967 utilizing the tallest earthen dam within the United States at 770 feet tall, damming the Feather River. Early in its history, Lake Oroville was a smallmouth and largemouth fishery but CDFW decided to add Spotted Bass to the lake in 1982-84 and the Spotted Bass population exploded. Most of the Spotted Bass are in the 1.5-3 lb range and make up bulk of the fishery but you can still catch smallmouth, largemouth, and redeye bass. The lake also has channel catfish within the coves and a good population of Black and White Crappie. Rainbow and Brown Trout were planted until the late 1980's but several diseases have been found within the lake to keep the CDFW from further planting these coldwater species. All of the river inlets have a good population of wild Rainbows and Browns, these fish have immunity to the diseases so these fish still thrive within the lake but in smaller numbers. The diseases also knocked back introductions of Lake Trout (1984), Kokanee (1977), and King Salmon (1991). There has been success with Coho Salmon, showing more resistance to the diseases, and these fish continue to be planted to meet the lake's mandated requirement to stock a coldwater species.
Most trout are caught by the fly early in Spring off the points and inlets of Bloomer and Kennedy Ravine in the North Arm and Kelly Ridge near the dam. The Smallmouth Bass will inhabit rocky areas such as the eastern shoreline on the North Arm below Kennedy Ravine. Another good area for Smallies is the South Arm along the southern shoreline east of Woodman Ravine and Powell Creek. Largemouth and Crappie are usually found when the weeds develop off the Sycamore Creek inlet of the Middle Arm and Montgomery Bar. The Spotted Bass are pervasive within all the coves and inlets, usually in schools and can be caught year-round. The peak time to fly fish for the Spots is December to March. The Bass mainly feed on Pond Smelt which are 1-1.5 inches have a white coloration. Most of the baitfish patterns are based upon the pond smelt. One popular technique adapted by local guides, Hogan Brown, Chuck Ragan, and Ryan Williams, is the Float N Fly rig which has a jig fly attached to an indicator with the depth set to be close to where the bass are hanging. Small movements of the fly will trigger a response, particularly effective when water temps are 50-53 degrees. Once the water temps exceed 53 degrees, many of the guides will go to stripping streamers. Topwater action with 4-6 inch patterns are popular in the Summer months from April to August. The slowest fishing at Oroville will be the Fall from October to December.
A 9 foot 5-6 wt rod works well for the lake. A floating line will be used for the Float N Fly as well as topwater action with poppers. A Type 6 Shooting head is used for streamer presentations.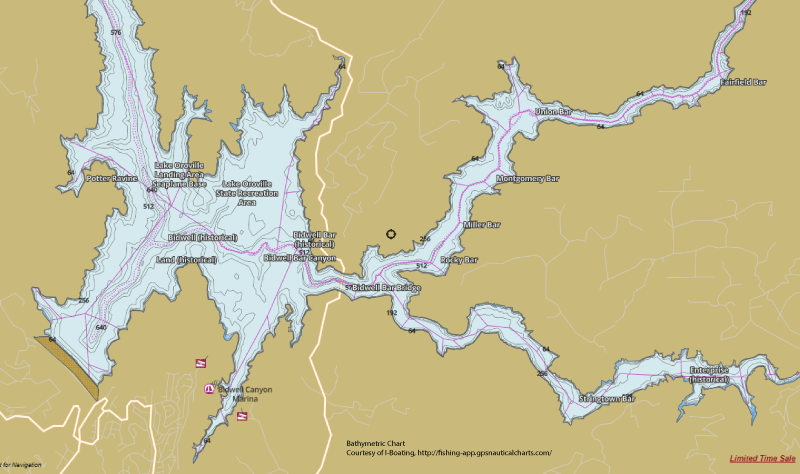 Fishing Regulations
Black Bass: Open all year. Day and Night fishing for Bass only. No restrictions. 5 fish per day. 12" minimum.
Trout: Open all year. Day fishing only. No restrictions, 5 trout per day. 10 trout in possession.