Directions: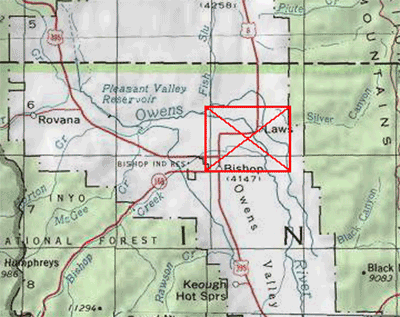 To reach the Owens between Bishop and Big Pine: From Hwy 395, 1 mile south of Big Pine, turn east on Stewart Lane. Go 1 mile to river. River access sites upstream to Bishop from Hwy 395; take any of these roads east or northeast: Bartell Road, Hwy 168, Collings Road, Warm Springs Road, Line St., and Hwy 6.
Notes: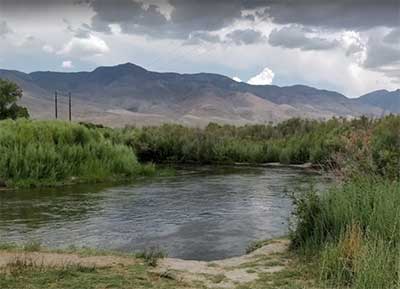 The Lower Owens is typically fished according to the flows which can fluctuate greatly due to the need for water in L.A. or heavy run-off conditions. Flows are usually below 500 cfs. When flows exceed 300 cfs, fishing can be difficult. Your safe wading flows are below 250 cfs. In January, although a few Flavs and some sporadic Baetis hatches might occur, midges are your best bet. Good Baetis hatches usually come off during February and March. Flav's will hatch in early afternoon and BWO's will hatch during midday, the largest (size #16) during February. Subsequent hatches of BWO's in March will tend to get smaller to #18-20 and the Caddis hatch (Green Rock Worm) will commence in March. During March, warm days will tend to result in Caddis hatches and cold days in BWO hatches. Midges will hatch throughout the Winter and Spring months. April can be difficult with high flows from the snow-melt and releases of water from the upriver reservoirs. In May, midday Baetis hatches will continue, Spotted Sedge(Cinnamon Caddis) and Small Black Caddis (Little Weedy Water Sedge) hatches will start in the late afternoons on the warmer days and continue through June. Callibaetis and PMD's show up in May through June while a major Caddis (Spotted Sedge) hatch occurs in the evening during June and July. June and July are also good months for Stonefly hatches. Little Yellow Stoneflies may be laying eggs on the water surface during sunset and will bring the trout up to the surface. Golden Stones, Small Brown Stones, and Little Green Stones make up the other stonefly hatches that can occur during these months. Mid-morning Trico spinnerfalls will start in June and will peak by August, with some sporadic hatches continuing until the end of September. Since these days are generally hot, many flyfishermen will fish nymphs during the day and some dries during the evening hours. When the bite slows in the afternoon, some will tie on streamers to a sinking line and throw them into the pools and eddies. Wooly Buggers, Matukas, and leeches tend to work rather well. Temperatures start to cool in September and the Grannom Caddis will start to hatch and will be the dominant hatch for most of the Fall. By Mid-September through early October, October Caddis will be hatching. October also brings back the Baetis which will hatch through November in small sizes of #20-22.




Fishing Regulations (Effective March 1st, 2021)
Lower Owens, below Wild Trout Section
From the last Saturday in April through November 15, 5 trout daily bag limit, 10 trout in possession; and, from November 16 through the Friday preceding the last Saturday in April, 0 trout bag limit, artificial lures with barbless hooks only and trout must be released unharmed and not removed from the water.