Notes: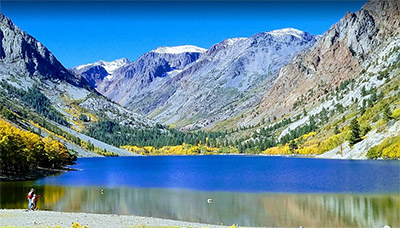 Lundy Lake (ele. 7,800') is home to some very large Brown Trout and is stocked with about 26,000 Rainbows each season. Most of the large browns are caught in the Spring after "Ice-out". The lake covers 100 acres and is 1 mile long and 1/2 mile wide. The lake is nestled within a steep canyon and was originally formed by glacial debris.The lake was named for William Lundy who harvested timber within the canyon in the 1880's. In 1910 a rock-filled dam was created greatly enlarging the lake. Many of the stocked Rainbows holdover the following season in the 16-18" class. The lake record is 13 Lbs. 12 oz. The best areas to float tube are the shallower waters around the inlet and the launch area. The lake is known for strong winds during the afternoon, so morning is the best time to flyfish. The season is the last Saturday of April to November 15th.

Mill Creek offers good flyfishing opportunities using both nymphs and drys. The DFG plants about 2700 rainbows within the 3 mile section of the creek below Mill Creek Campground. This section is also heavily shaded with Pines and Aspens. Try the section above Lundy Lake. Beavers were introduced into the area in the 1940's and created a series of beaver ponds. A trailhead exists at the dam which takes you for about a 2 hour hike up a very steep, strenous trail to some upper lakes in the Lake Canyon area. There are four lakes in this area: Oneida Lake at 9,656' is the largest lake (29 acres) containing Brookies. Crystal Lake has Brookies and Rainbows. Blue Lake has Brookies. At Lundy Lake Resort is the trailhead to the 20 Lakes Basin area.
Fishing Regulations (Effective March 1st, 2021)
Lundy Lake:

Last Saturday in Apr. through Nov 15. 5 trout per day. 10 trout in possession.

All Lakes and Reservoirs in Inyo and Mono Counties (except Bridgeport Reservoir and tributaries; Convict Lake; Crowley Lake; George Lake; Grant Lake; Gull Lake; Horseshoe Lake; June Lake; Lundy Lake; Mamie Lake; Mary Lake; Rock Creek Lake; Sabrina Lake; Silver Lake; South Lake; Twin Lakes (Mammoth); Twin Lakes, Lower and Upper (Bridgeport); Virginia Lake, Lower and Upper):

Open all year, five trout daily bag limit, 10 trout in possession.

All other creeks and tributaries:

From the last Saturday in April through November 15, 5 trout daily bag limit, 10 trout in possession; and, from November 16 through the Friday preceding the last Saturday in April, 0 trout bag limit, artificial lures with barbless hooks only and trout must be released unharmed and not removed from the water.