Notes: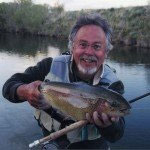 Designed by Hal Janssen. Hal got his first inspiration in 1957 as he designed a Marabou Leech for Black Bass based upon an earlier pattern known as the Ozark Bucktail. Later, along the Williamson River in Oregon, Hal encountered leeches and came back to this pattern for the intent of catching trout. A natural leech will collapse into a small ball, then extend 4-5 inches in length when swimming. By staggering the Marabou wings along the top of the hook shank he got a slender, tapered appearance in which the marabou will flatten and wrap itself around the hook. Marabou will achieve this movement and create a close representation of a natural leech. The proper selection of Marabou is critical. Use the fully barbed flues found along the middle of mature plume quills. These flues should be long, 3-4 inches if possible. The Marabou Leech is a very effective pattern for the Sierra Nevada. With its pulsation motion (due to the Marabou), fish find this fly very attractive. Krystal Flash strands are sometimes used over the front wing. The body is a thread wrap over the hook shank securing the tag ends of the marabou to the top of the shank. Try to keep the amount of Marabou used to a minimum, 6-8 flues for the tail and wings. However, fully barbed flues may be difficult to find, even on plume marabou. If so, increase the number of flues until you get your desired effect. Once wet, the marabou will appear much thicker. The pattern should also be weighted, 8-15 turns of leadfree wire wrapped along the front half of the hook shank or you can use a bead.

There are a number of variations of the Marabou Leech. A common commercial tie is to use one forward wing and spirol wrap the butt ends of the tail marabou for the body as I did with the Olive Marabou Leech. This pattern works well for smaller sizes. Others will wrap a body of dubbing or chenille and tie the forward wing long enough so that the material extends to the tail. On the Dark Cinnamon Marabou Leech, I thread wrapped the lower portion of the body and then wrapped the remaining Marabou tag end to the wing.

The Marabou Leech is usually fished as a streamer with a full sinking line. You want to get the fly near the bottom to mimic the natural. Use some short tugs of 2-3 inches or some long pulls of 8-12 inches to mimic the undulating swimming of the leech. In stillwater situations, some will simply troll the pattern while kicking from a float tube using the pause and tug technique. If you come across shallow shoals and drop-offs, try using the pattern with an intermediate sinking line or floating line.