Life Cycle: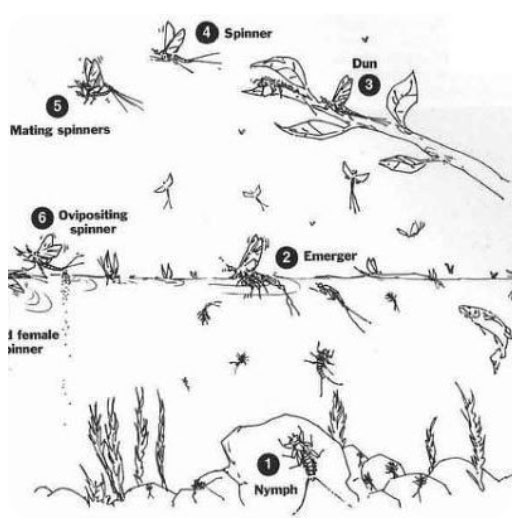 The Pale Morning Dun mayfly is a major hatch for our Sierran streams and rivers. They are found heavily within Spring Creeks and tailwaters, preferring stabilized flows and streambeds with rooted vegetation. Often the nymphs tend to be within the riffles and runs, crawling on the bottom. The PMD begins its life cycle as a crawling type of nymph that crawls towards the streambanks before they swim clumsily to the surface when ready to "hatch". The nymph actually splits just below the surface and the dun emerges completing it's travel to the surface a few inches further. At the surface it takes some time, 7-10 minutes, for the wings to dry so that the dun can proceed out of the water for the nearest streamside vegetation. PMD's are generally in the size 16-18. The duns molt into spinners for mating with the females depositing eggs usually in the late afternoon. Rarely is the spinner fall a focus for the trout as they tend to concentrate on the emerging dun during the hatch as large numbers are usually present on the water surface.
Hatches usually begin in late May or early June and continue to the end of July or early August. The water temperature should be between 58-62 degrees F for a good hatch to take place. The hatch usually starts in late morning around 11:00am. If it is a bright, warm day the hatch might go on for only an hour or more. On cloudy days, the hatch might continue for 3-4 hours and be sporadic. The life cycle covers a full year, the nymph phase being close to 12 months while the dun/spinner phase is only 24 hours. Duns and Spinners will have 3 distinct tails, The females will be pale yellow on the back and a mix of pale yellow and pale olive on the underside. The males tend to have more of an amber coloration. Wings will also be pale yellow.
Within the dry fly category, we have Pale Morning Duns with the emergent forms such as the Sparkle Dun, Quilled Parachute Dun, Brooksprout, RS2, Quigley Cripple, Floating Nymph, and Hackle Stacker. The emergent forms are very important as the fish key upon this stage. .
.