Notes: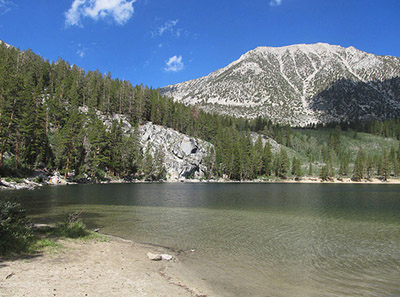 Rock Creek Lake (55 acres) is at 9.682 feet elevation and it's vicinity is a good opportunity at a Sierra Grand Slam. Rock Creek is a freestone stream that is mostly steep pocket water but has some areas below the lake that are slow enough for dry flies. The creek has a good supply of Brookies, Browns, and Rainbows while the lake is known for it's Browns, Rainbows, and Cutthroats. Above Rock Creek Lake there are numerous areas holding Brookies and Goldens.

Starting at the Pine Grove Campground area, the creek slowly meanders this area and waders are required. The section holds many small brookies and browns.
About 1/2 mile upstream from Pine Grove Campground is an area known as "The Pond". Basically, this is an area with numerous beaver dams creating a perfect setting for laying down some dry flies. Brookies and good-sized Browns are also here. Due to willows and brush on the East Banks, fish the West Bank, it's more accessable. Park at the bridge near the corrals and walk upstream from there.

Rock Creek Lake can be fished with waders near the boat launch or, better, with a float tube. Use streamer patterns and sinking lines. Water is clear and cold. Another good spot to float tube is the inlet side of the lake near the creek. The lake is planted heavily with Rainbows in the 12-13 inch class. The trout can holdover to larger sizes and can have some rather large Browns and, perhaps, a few planted Alper's Rainbows. The lake record for Rainbow is 12 Lbs.13 oz. Brookies can also be found within the lake in the 9-12 inch size.

Above the lake, the creek is stocked with Brookies and Rainbows. This section is also fairly slow moving up to the Mosquito Flat Trailhead about 2 miles upstream. The season for this entire are is the last Saturday of April to November 15th. Often, the lake is closed until late May or June due to snow conditions.
Fishing Regulations (Effective March 1st, 2021)
Rock Creek Lake:

Last Saturday in Apr. through Nov. 15. No restrictions. 5 trout per day.

Other Lakes in vicinity:

Open all year, five trout daily bag limit, 10 trout in possession.

Rock Creek and all other creeks and tributaries:

From the last Saturday in April through November 15, five trout daily bag limit, 10 trout in possession; and, from November 16 through the Friday preceding the last Saturday in April, 0 trout bag limit, artificial lures with barbless hooks only and trout must be released unharmed and not removed from the water.