Directions: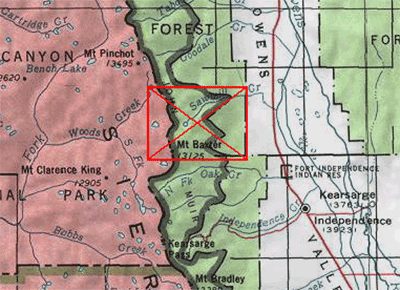 From Mojave, drive north on Highway 14 to Highway 395. Continue north of Highway 395, driving 9 miles past the town of Independence to Sawmill Creek Road. Turn Left and drive to Tinemaha Road. Drive one mile and turn left at Division Creek Road and drive two miles to the powerhouse. The road becomes a dirt road and follow another 1/2 mile to the trailhead. The trail goes through the Bighorn Sheep Zoological area so you cannot take dogs along.
Notes: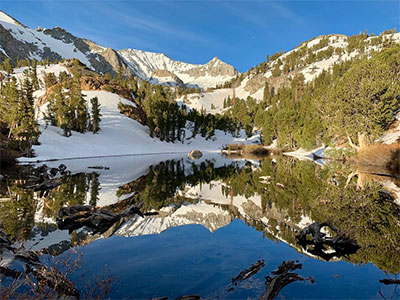 Follow a trail from the Sawmill pass parking area to cross a dried creek bed to the trailhead itself. From there, follow the trail from the desert valley floor to the mountains! It is a very steep ascent and for the first few miles, there is no shade or water; so plan appropriately! The first sources of shades will stem from random trees scattered alongside the the trail. The first water source is approximately 5 miles into the trail. Eventually the desert setting will give way to a alpine tree line and thus will provide many opportunities to hide from the sun. Water sources are still scarce but isn't nearly as spread out as the first half of the trail. As the trail goes through Sawmill Meadow, it will start ascending into an area of red soil and rock; you are now close to Sawmill Lake! The lake itself has the typical but beautiful clear and cold alpine water. Sawmill Lake itself stocked with trout if you are looking into doing some fishing. Once at the lake, follow the trail that skirts right if you want to continue your journey to Sawmill Pass. The rest is up to you; stay at the lake, or link-up to other trails such as the JMT.
Sawmill Creek: Contains Rainbows and Browns
Sawmill Lake: (16 acres) Contains Rainbows
From Sawmill Pass you drop into the Upper Woods Creek area of Kings Canyon National Park.

Woods Lake: This 10,800' elevation lake is about 1 mile below Sawmill Pass. Contains Brookies, 8-10 inch range but some up to 13". Most of the smaller lakes surrounding Woods Lake also have Brookies.



Fishing Regulations (Effective March 1st, 2021)
All other lakes within John Muir Wilderness:

Open all year. 5 trout. 10 in possession. No gear restrictions.

All creeks and tributaries:

From the last Saturday in April through November 15, five trout daily bag limit, 10 trout in possession; and, from November 16 through the Friday preceding the last Saturday in April, 0 trout bag limit, artificial lures with barbless hooks only and trout must be released unharmed and not removed from the water.