Notes: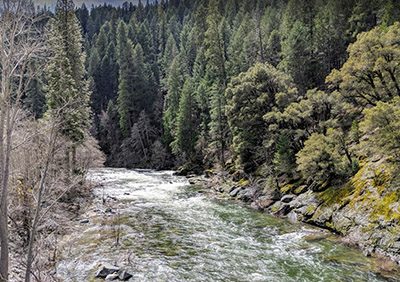 The South Fork of the American is a small stream with a mixture of pools, runs, and riffles, as well as some pocket water. It is mainly stocked with medium sized hatchery trout and has considerable fishing pressure from bait-fishermen. Below Silver Creek, the water on the South Fork tends to warm up too much by mid-summer. The better flyfishing is on the Silver Creek fork with Rainbows and Browns in the 8-12 inch class. The portion of Silver Creek below Ice House Reservoir is known as the South Fork of Silver Creek. It is a tailwater with rainbows in the 6-10 inch class and some larger browns 9-12 inches within the deeper pools. Flows will vary greatly depending upon releases from Ice House Reservoir. By mid-summer, the flows are too small for good flyfishing. Silver Creek below Union Valley Reservoir also tends to be at the whims of the dams releases. Often flows are kept to a minimum.
Further upriver, the Silver Fork of the American near Kyburz provides good flyfishing for small wild Rainbows in the 7-12 inch class with access by way of Silver Fork Road which follows the stream. It is a tailwater stream from Silver Lake with plunge pools and pocket water. Further upstream, you will encounter 8-12 inch browns within the larger pools and some brookies. The South Fork above Kyburz tends to escape the bait-fishing crowd and will provide some wild trout action within the pocket water and runs.
Union Valley Reservoir is over 2500 acres. It is best known for it's Kokanee cutthroats but also has good numbers of Rainbows and Brown Trout. A number of creeks enter the lake and each of their inlets is a good location for flyfishing.
Ice House Reservoir is nearly 700 acres and is usually good fishing for Brooks, Browns, and Rainbows. Try the area where Silver Creek enters the east end of the reservoir.
Slab Creek: Slab Creek is downstream of the South Fork of the American where both streams enter Slab Creek Reservoir. It is a Spring Creek with Rainbows 6-10 inches, and Browns 8-11 inches. It runs through a narrow canyon with small pools and runs. Access from Hwy 50 near Pollack Pines or from Placerville on Mosquito Road.
Jones Fork of Silver Creek: The Jones Fork is one of the few places where you can find Sacramento Suckers above 4600 feet elevation. It also supports a kokanee spawning run from Union Valley Reservoir. The creek above the reservoir has a low gradient channel with many large, sandy bottom pools and undercut banks with root wads. These areas contain both Sacramento Suckers and Rainbows. Browns can be found within the undercut banks and Brookies are found in the upper reaches.