Online Shopping: To Order, select the color and click "Add to Cart". If you want more than one package, just click "Add to Cart" for an additional unit. Paypal ensures a secure transaction using credit cards.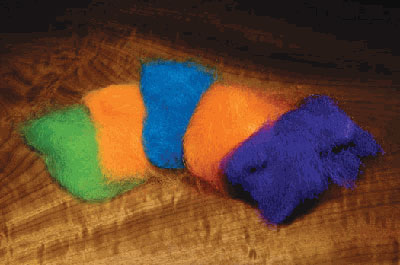 Colors: Black, Brown, Claret, Cream, Fl. Chartreuse, Fl. Fire Orange, Fl. Orange, Fl. Red, Green, Highlander Green, Hot Orange, Kingfisher Blue, Light Olive, Olive, Olive Brown, Red, White, Yellow
Angora goat dubbing material is taken from the Angora goat, native to the Angora region in Asia Minor or what is modern day Turkey. This material is commonly known as the best all-natural substitute for seal dubbing, as in many areas of the world it has been made illegal to harvest seal. This material is spiky and softer than seal. It is also the hair that is used to make Mohair Yarn. Often blended with other softer hairs, such as rabbit, for nymphal bodies. Used on Stonefly and Leech patterns, such as Goat Hair Leech. See Color Chart. This item has been discontinued by Hareline and is being replaced by Nature's Spirit African Goat. Limited stock until cleared.