Online Shopping:
To Order, select the size you desire and click "Add to Cart". If you want more than one package, just click "Add to Cart" for an additional unit. Paypal ensures a secure transaction using credit cards.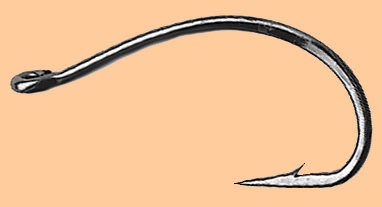 $5.25 per 25 count Size 8-18
Heavy Wide Gape Scud Hook
A curved tying hook with a heavy wide-gape, continuous bend, and an up-eye. Made 1X strong with a bronze finish and a mini-barb. Great for tying scuds, shrimps, grubs, pupae, and San Juan worms. Excellent choice for Silvey's Edible Caddis Emerger, Drifting Flashback,and Little Sloan Stone.