Online Shopping:
To Order, select the size you desire and click "Add to Cart". If you want more than one package, just click "Add to Cart" for an additional unit. Paypal ensures a secure transaction using credit cards.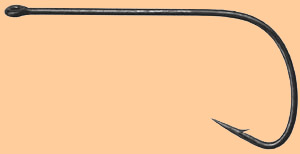 $6.00 per 15 count Size 1/0, 2
Wide-Gape bend,straight-eye, 1X-fine wire, bronze
Wide Gape Stinger Hook
Uses: Deer Hair Bass Bugs, Frogs, Mice
This hook was designed for rubberlegged poppers and large articulated streamers. The spear of the hook angles back towards the eye of the hook creating a wide-gape bend that is very effective in holding the fish once hooked. The wide-gape allows room to attach foam popper bodies as well as thicker body materials. This bend shape also allows the fly tier to attach a small loop of stiff nylon monofilament at the bottom of the bend and just behind the eye to form an effective weed guard.