Online Shopping:
To Order, select the size you desire and click "Add to Cart". If you want more than one package, just click "Add to Cart" for an additional unit. Paypal ensures a secure transaction using credit cards.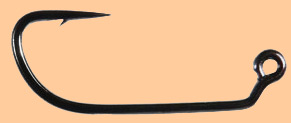 $5.75 per 15 count Size 10-16
Limerick bend, heavy wire, long shank, bent 60 degrees, flat eye, forged.

The 4640 is a heavy wire bronze jig hook with a 60 degree leg and a flat eye. Ideal for Czech or Euro nymphing techniques.The 60 degree leg allows the hook to "keel" so that it travels through the water with the hook point up, making them snag less often. Try this hook with many of your favorite nymph patterns. Slotted Beads work well with the 60 degree bend.