Online Shopping:
To Order, select the size you desire and click "Add to Cart". If you want more than one package, just click "Add to Cart" for an additional unit. Paypal ensures a secure transaction using credit cards.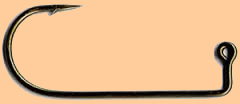 $5.00 per 15 count Size 4-8
WIDE GAP, 90 DEGREE BEND, FLAT RING EYE, STANDARD LENGTH, BRONZED FINISH

Daiichi's 4660 is a standard wire, bronze finish jig hook whose 90 degree leg and a flat eye design enables innovative fly tiers to create streamers and large nymphs that not only keel correctly through the water on horizontal plane, but also ride hook point up to ensure less snags.