Online Shopping: To Order, select the color and click "Add to Cart". If you want more than one package, just click "Add to Cart" for an additional unit. Paypal ensures a secure transaction using credit cards.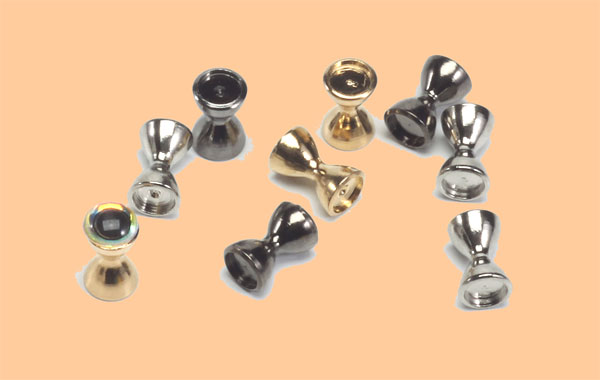 Four Sizes: Large, Medium, Small, Extra Small
Four Colors: Black, Gold, Nickel
These plated brass barbell eyes are perfect to apply adhesive eyes or 3D eyes onto. Just put a small drop of Zap-Gel on the recessed end, apply the eye and you are done. These eyes look more realistic on your flies and are more durable because the edge of the eye is protected against peeling off. 20 pieces per package. Black color is black nickel.
1/8" 3.2mm Eyes - use 3/32" or 1.5mm adhesive eyes
5/32" 4.0mm Eyes - use 3/32" or 1.5mm adhesive eyes
3/16" 4.8mm Eyes - use 1/8" or 2.0mm adhesive eyes
7/32" 5/5mm Eyes - use 5/32" or 2.5mm adhesive eyes