Online Shopping:
To Order, select the size you desire and click "Add to Cart". If you want more than one package, just click "Add to Cart" for an additional unit. Paypal ensures a secure transaction using credit cards.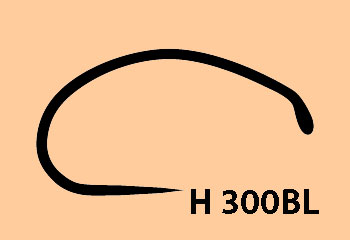 $8.00 per 25 count Size 10-16
Curved shank, medium wire, extra long needle point, black nickel finish..
The Hanak H300BL is is one of the finest Czech/Grub hooks ever made.  Curved shank hooks for czech nymphs, scuds, grubs, pupas, shrimp, scuds. Hooking fish is super easy and they stay on once hooked due to the long needle point. Super sticky point will hold fish like no other competition hook. A forerunner in the design of competition hooks, Hanak continues to emphasize efficiency from fish strike to the successful landing. These hooks are carbon steel and enhanced by a special shape and extra-long barbless, needle points that reduce harm to fish. 25 per pack