Online Shopping: To Order, select the color and click "Add to Cart". If you want more than one package, just click "Add to Cart" for an additional unit. Paypal ensures a secure transaction using credit cards.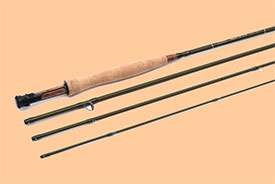 10'0"(3wt) Hanak Superb XP Rod (H-SXP3100)
10'6"(3wt) Hanak Superb XP Rod (H-SXP3106)
10'0"(4wt) Hanak Superb XP Rod (H-SXP4100)
11'0"(4wt) Hanak Superb XP Rod (H-SXP4110)
9'6"(5wt) Hanak Superb XP Rod (H-SXP596)
10'0"(5wt) Hanak Superb XP Rod (H-SXP5100)

$725.00
These ultra-light, very fine yet powerful rods set the bar for top of the line Czech Nymph rods. Designed not only by Hanak, but also the Czech National Fly Fishing Team, this rod has been fine tuned to perfection.  
   The blanks have been made using the latest Hi-Carbon technology and materials in a special combination with NANO top-class filaments. Combining these blanks with extra light super quality components, Hanak has succeeded in reducing the overall weight of these rods by about 30 % (up to 30 g) compared to conventional rods. The rods have super thin Fuji SiC stripper guides and very durable and flexible titanium snake RECOIL Titanflex guides – made in the USA. The perfect design of the rods is underlined by the exclusive black real seat which incorporates an exotic wood insert. The handle is made from the highest quality AAAA grade cork. Each rod is shipped in the luxurious pentagon rod tube with separate compartments for each rod section. With a matte gold olive finish of the blank also helps hide the rod, reducing rod flash in tight water conditions with easily spooked fish. The 10'0" 3wt (most popular size) weights in at 79 grams, or 2.786 ounces. The 11'0" 4wt comes with a fighting butt.