Online Shopping: To Order, select the color and click "Add to Cart". If you want more than one package, just click "Add to Cart" for an additional unit. Paypal ensures a secure transaction using credit cards.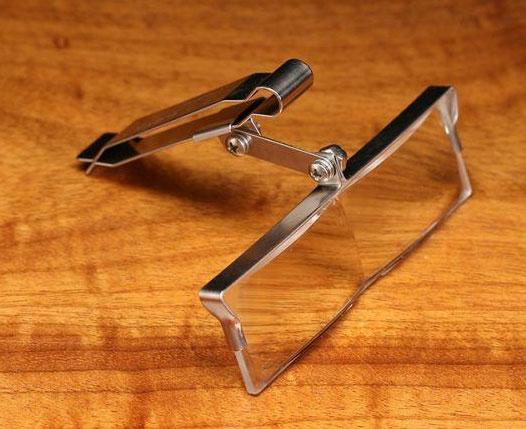 Hateyes Magnifiers
Four Strengths::
Hateyes #2 - 1.6X
Hateyes #4 - 2.0X
Hateyes #5 - 2.25X
Hateyes #7- 2.75X
$25.00
Hat Eyes Magnifier
Truly the Highest Quality on-stream eyewear ever developed for flyfishermen. These flip-type-focals attach to the hat brim by a stainless steel clip that holds so positive that you can be sure that they will never fall off. No pins or studs are necessary. Lenses can be adjusted to line up with almost any eye position. An extension is included that will allow the lens to extend out. The quality of the lens easily distinguishes it from others. The costly precision-controlled manufacturing process produces clear optic-grade acrylic dual-lenses, free of distortion or irregularities. Store under your cap brim when not in use.

Lens #2 = 1.6x , working distance approximately 12"-14"
Lens #4 = 2.0x, working distance approximately 10"-12"
Lens #5 = 2.25x, working distance approximately 7"-10"
Lens #7 = 2.75x, working distance approximately 4"-7"
Extra long extension included. Replacing the standard extension allows the user to adjust the focal length of HatEyes.
Clips to the brim of any hat!
Perfect for the tackle box, sewing kit or first aid kit.
Moves with line of focus
Distortion-free viewing
Wide field of vision
Adjustable lens angle
Brings work closer into focus than regular magnifying glasses
Adjustable lens frame swings up and down, or can be locked in place
Modern, open design assures unimpaired vision
Snap-out interchangeable lenses