Colors: Silver, Pearl Red, Fl. Orange, Gold, Gray Ghost, Light Blue, Smolt Blue, Fl. Cerise, Red, Purple, Pearl,Black, Fl. Fire Orange, Green, Mixed Colors, Pink, Hot Orange, Fl. Yellow, Copper, Pearl Blue, Hot Yellow, Peacock, Fl. Chartreuse, Royal Blue, Olive, Lime Green, Dark Purple, Fl. Shrimp Pink, Root Beer, UV Grey, UV Tan.
Two Grizzly colors: Black/Silver, and Copper/Blue
Reflective, crinkley material that is used on many patterns. Particularly usefull for streamer wings, wingcases, and legs for nymphs. Available in many different colors. A new introduction is the two-tone Grizzly packs which are two colors twisted together for addtional depth of material. See Color Chart.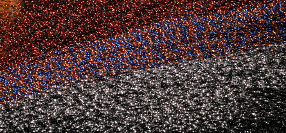 Grizzly Krystalflash