Online Shopping: To Order, click "Add to Cart". If you want more than one package, just click "Add to Cart" for an additional unit. Paypal ensures a secure transaction using credit cards.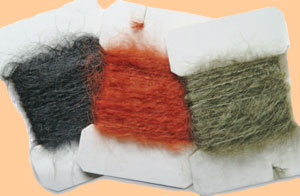 This Item has been discontinued by Umpqua Feather Merchants. Available until supplies are gone.

Color: Brown, Ginger, Purple, Rust, Rusty Brown
Long angora hair twisted into a fuzzy, buggy yarn. It is perfect for tying any leech pattern. It has very long fibers that are attractive and breathe well under water.