Online Shopping: To Order, select the color and click "Add to Cart". If you want more than one package, just click "Add to Cart" for an additional unit. Paypal ensures a secure transaction using credit cards.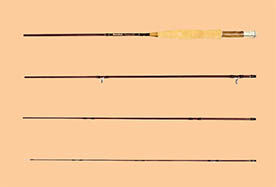 Snowbee Prestige River and small Stillwater series
9'0" 4 wt., Item 10213
9'0" 5 wt., Item 10214
$439.00
Our river and stillwater series covers a wealth of fishing opportunities... finesse, accuracy and balance are all that's asked of a good rod and these offer all of that and more. The range caters for every application and the blanks are purpose made for power, but with a tip flex in play, sufficient to soak up all charges so that fish caught, especially on barbless, are far less likely to come off.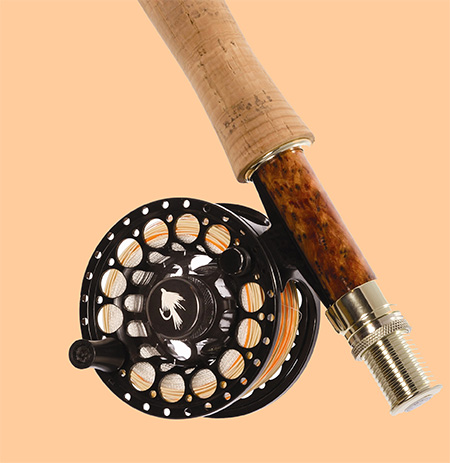 Snowbee Prestige Stillwater, Reservoir & Large river series
9'0" 6 wt., Item 10215
9'6" 7 wt., Item 10217
$439.00
The most powerful blanks in the new Prestige range. Unleash the hidden energy in these rods with a smoothness you will not believe. The new construction provides a smoothness unsurpassed by any other material. You will quickly come to appreciate the unrivaled power and control, only available with this remarkable new technology. All designed with progressive tip action and sufficient flex to generate maximum line speed and distance, as well as holding onto hooked fish, with a vastly reduced risk of losing them in play.
Snowbee Prestige Ultra-lightweight Stream and Brook series, 2.1 oz
7'6" 1 wt., Item 10211
7'0" 2 wt., Item 10210
$439.00
When you want to 'fish light' it doesn't get much lighter than this! Our two new Ultralight models are fitted with the European style tapered handle, with burl wood collar, allowing sensitive control, with one finger running up onto the blank, for the ultimate in bite detection and precision casting.
Snowbee Prestige Lightweight River Dry Fly & Nymph series
9'6" 3 wt., Item 10216
10'0" 2 wt., Item 10218
10'0" 3 wt., Item 10219
11'0" 3 wt., Item 10224
$439.00
Our river dry fly and nymph rods are aimed squarely at the 'light line' specialist who has come to appreciate the need for sensitive control and extreme accuracy with a feel to match, when 'fishing light'. Originally developed in Eastern Europe, the longer, lighter styles of nymph fishing and dry fly rods have become increasingly popular for river fishing and the new materials further enhances this. These rods lend themselves to effortless and untiring Czech and French nymphing techniques and the 9'6" #3 weight model is the ideal rod for dry fly or dual purpose. These lighter options are all fitted with the European style tapered handle and burl wood collars.
From the moment you pick up a Snowbee Prestige fly rod, you will notice and appreciate the level of detail that has gone into them as they simply ooze class.
Using new Military Grade Carbon fiber and resin technology, to achieve the precise action, lighter and stronger to achieve a tactile feel and casting accuracy that is second to none. These rods now compare favorably with the best on the market, plus we have extended the range to include some fabulous lighter line class, stream and brook rods. Every rod carries an Original Purchaser Lifetime Guarantee and comes in a matching cotton drill sleeve and lightweight Cordura tube.
The lightweight aluminum reel fittings have a hard anodized silver/gold finish and feature stunning burl wood inserts. This beautiful wood displays a range of colors and grain patterns, making each rod quite unique and individual. The rich bronze color of the blanks is complemented by self-color whippings with a subtle, single band of bronze whipping.  
Prestige rod was the rod choice for accuracy by Maxine McCormick, the reigning fly casting world champion, in winning the women's division and the overall championship at the recent Top Gun Tournament by Wasatch Fly Fishing Expo at Salt Lake City. 
Features
4-piece ultra lightweight carbon blank
Lighter, Stronger and Superior tactile feel.
Fast action with high lift snakes for extreme distance casting
Snowbee tri-modulus carbon technology
Deep bronze finish with matching whippings
Anodized silver/gold aluminum reel seat with maple burl wood insets
Snowbee Original Purchaser Lifetime Guarantee