Online Shopping: To Order, select the color and click "Add to Cart". If you want more than one package, just click "Add to Cart" for an additional unit. Paypal ensures a secure transaction using credit cards.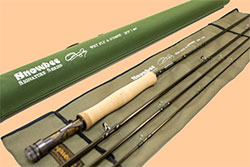 10'0"(4wt) Davy Wooten Wet Fly and Nymph Rod
$349.00
The newest Signature Series Fly Rod from Snowbee sees a collaboration with world-class angler, Davy Wotton. Developing a "rod that suits the demands needed for wet fly and nymph fishing" has been a project in the making for the former competitive fly angler.
The Davy Wotton Signature Series Wet Fly & Nymph Rod is offered as a 10ft 4wt which affords many more advantages over a standard 9ft rod. It enables far better line control for drift, with less fly line to be on the water surface, while simultaneously providing easier ways to mend and control line drift to eliminate drag. Able to facilitate the use of longer leaders for a more European style of nymph fishing, this 10ft rod offers more versatility than any shorter nymph rod. "Personally approved" by Davy for the purpose of wet fly and nymph fishing.
Features:
10'0" 4WT, 4–Piece, Rod Weight 3.8oz.
Mid-Fast "Tri-modulus Carbon" Design and Technology Blanks
Large SIC Lined Stripping Guides, High-Lift Snake Guides for a Smoother Presentation
Wine Thread Wraps That Blend as Accent
Finished in Lustrous Olive-Green with Davy Wotton's Signature in Gold
High-Quality Full Wells Cork Grip
Burl Wood Insert Reel Seats
Lightweight, Up-Locking, Anodized Diamond Design Engraved Reel Seat
Comes with Matching Cotton-Drill Rod Bag and a Strong Cordura Covered Rod Tube Embossed with Davy Wotton Signature
Snowbee Original Purchaser Lifetime Guarantee