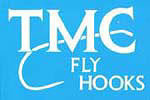 Online Shopping:
To Order, select the size you desire and click "Add to Cart". If you want more than one package, just click "Add to Cart" for an additional unit. Paypal ensures a secure transaction using credit cards.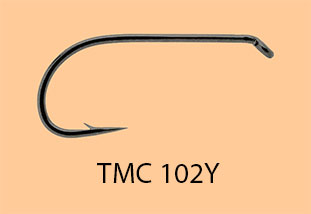 $8.00 per 25 count Size 11-19
Down Eye, Fine Wire, Wide Gape, Forged, Black
Originally designed as a solution for the "quick take" strikes of Japanese native trout, the TMC 102Y has become the standard hook for tying parachute-style patterns. The point has moved back slightly for more secure hooking. This is a great hook for tying emergers as well as dry flies. It is a sturdy hook with a very sharp point to set the hook with ease. If you're looking for a new dry fly hook, the TMC 102Y is a little different. These fly tying hooks come in odd sizes instead of your typical even-numbered sizes. Featuring a shorter shank and wide gape, these fly tying hooks work great for short-bodied dries like Griffith's Gnats and Blue Wing Olive patterns. The 1x fine wide gap hook will also tie Mayfly, Caddis, or Midge dries and emergers.