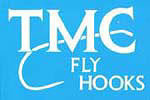 Online Shopping:
To Order, select the size you desire and click "Add to Cart". If you want more than one package, just click "Add to Cart" for an additional unit. Paypal ensures a secure transaction using credit cards.
$8.50 per 25 count Size 12-20
Up Eye, Caddis Larvae, Emergers, Curved Shank, Fine Wire, 2X Short, Forged Black
The TMC 206bl is a barbless hook with a gradually curved shank. The curve balances the slightly up-turned eye so that it acts more like a straight-eye hook in the water. The light wire allows the patterns to remain on the surface or within the surface film. This hook is a good choice for caddis larvae, floating nymphs, emergers, soft hackles, parachute dries, CDC dries, and scud patterns.