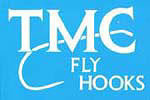 Online Shopping:
To Order, select the size you desire and click "Add to Cart". If you want more than one package, just click "Add to Cart" for an additional unit. Paypal ensures a secure transaction using credit cards.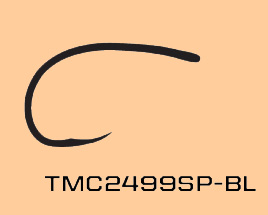 $11.75 per 25 count Size 12-18
$12.25 per 25 count Size 6-10
Nymph, Scud, Caddis Larvae Hook. Super point, Round, Straight Eye, 2X Heavy, 3X Wide, 2X Short Curved Shank, Forged, Black.

This is a unique barbless hook which has a wide gape but a 2x short shank to minimize levering. Perfect for hooking large trophy trout. It is based on TMC2488 with a 2X heavy wire for added strength. This hook features SPR-Barbless point, the "SP" stands for Spear Point Barbless; the hook features a hollowed curve point with triangular edges. The slow tapered point lowers resistance of penetration, resulting in faster hooking and better holding, supported by the tiny swelling of the point. Great for emergers, pupae & larva, shrimp, eggs, parachute patterns, and terrestrials.