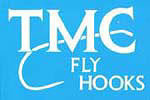 Online Shopping:
To Order, select the size you desire and click "Add to Cart". If you want more than one package, just click "Add to Cart" for an additional unit. Paypal ensures a secure transaction using credit cards.
$7.50 per 25 count Size 6-16
D/E, 2XF, Perfect bend, Forged, Bronze
A 2X long Dry Fly Hook designed for Stoneflies, Caddis, Hoppers and Terrestrials and based upon the design of the TMC 5262 nymph and streamer hook. The long shank makes it useful for imitating hoppers, adult stoneflies and caddis flies, as well as some of the largest mayfly duns.