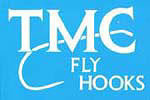 Online Shopping:
To Order, select the size you desire and click "Add to Cart". If you want more than one package, just click "Add to Cart" for an additional unit. Paypal ensures a secure transaction using credit cards.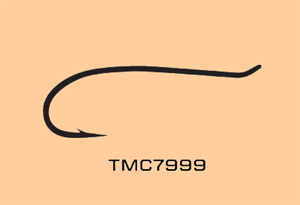 $18.00 per pack of 25
Size 2/0,1/0,2
$17.00 per pack of 25
Size 4,6,8
Upturned Tapered Looped-Eye, Heavy Wire, Forged, Black - Steelhead & Salmon Flies, Dry Flies
The TMC 7999 is a strong, elegant, functional hook style applicable to virtually all salmon and steelhead style flies. The TMC 7999 has a graceful, tapered loop up-turned eye, and a low profile barb that is easily pinched down. The heft of the TMC 7999 allows it to sink nicely even when dressed with dense winging or body materials.