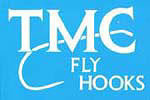 Online Shopping:
To Order, select the size you desire and click "Add to Cart". If you want more than one package, just click "Add to Cart" for an additional unit. Paypal ensures a secure transaction using credit cards.
$8.50 per 25 count Size 10,16,&18
Dry Fly, D/E, 2X Short, 1X Fine, Forged, Bronze

Tiemco designed this hook for tying parachute patterns. The shorter hook shank makes a more proportioned body. It is made from 1X fine wire and the length is 2X short. The 921 is chemically sharpened so you don't need to file the point. It is forged and bronzed. Perfect for parachutes and thorax flies.