This single, innovative bag will hold all you need for a two weeks fishing trip.
The base compartment is designed to take travel rods up to 10ft 4-piece or 16ft 6-piece Salmon rods, plus a pair of wading boots, stockingfoot waders, reels, fly boxes and vest or wading jacket. The upper compartments have ample room for dry clothing, shoes etc. The best bit is that all this gear is safely concealed and the XS doesn't look like a "fishing bag" to rouse the interest of unscrupulous baggage handlers.
Our XS model incorporates two lockable end compartments, but with flexible, over-sized nylon liners. This innovative design allows the entire length of the bag to be used as the top compartment at the start of the trip, by pushing these flexible liners into the ends of the bag. Dirty clothing can be stored in these end compartments and the liners slowly extended into the main compartment area, keeping clean and dirty gear separated. The Stowaway Travel Case fits tightly inside the Travel bag.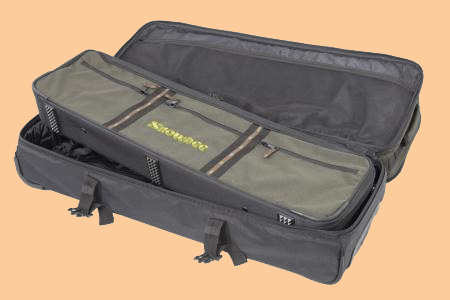 DIMENSIONS: Size overall: 37" x 13.5" x 14" high
Base Compartment (internal): 36" x 13" x 5" – Volume 40 liters (2440.95 Cubic inches)
Main Compartment (internal): 26.5" x 13" x 7.5" – Volume 43 liters (2624.02 Cubic inches)
End Compartments (internal): 6" x 13" x 7.5" (X2) – Volume 19 liters (1159.45 Cubic inches)
Overall volume: 102 liters
Weight: 4.5kg (6224.42 Cubic Inches / 9.92 Pounds)
Features
Tough roller-wheel system
Pull-out handle for easier transportation and greater stability
Stand-up on end for convenience
Base compartment reinforced with a 6mm thick impact resistant frame, to protect contents
Tough rubber base skids to prevent chafe
Upper opens on a clamshell principle from the base, with a 2-way zip closure
Waterproof base in the main compartment to separate wet gear in the base from dry gear in the upper compartment
Internal zipped mesh pockets to main and base compartments for accessories
Large, square opening flap entry to the main compartment for easy loading
Separate, "flexible liner" end compartments, to keep dirty clothes/gear separated from clean
2 zipped side document pockets
2-way lockable zips on all the main compartments for added security
Adjustable "cinch straps" to prevent contents from moving in transit
Webbing carry handles with hook & loop"handle-wrap" for added comfort
Weighs in at a class-leading 4.5kg to maximize gear and luggage capacity.