Online Shopping: To Order, select the color you desire and click "Add to Cart". If you want more than one package, just click "Add to Cart" for an additional unit. Paypal ensures a secure transaction using credit cards.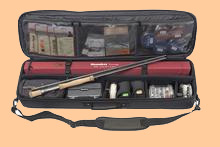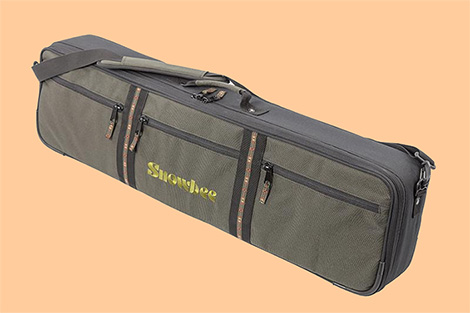 Snowbee "Stowaway" Travel Case

$159.99
This travel case provides you with enough room for travel fly rods, reels, fly boxes, and accessories. Perfectly functional by itself, the XS "Stowaway" Travel case is not merely an accessory to the XS Travel Bag but an excellent day-bag ideal for Stillwater fishing. Store it under the cross thwarts in a boat for easy and instant access, this case also makes an ideal competition companion.
(Contents not included)
Features:
Carry handle, plus adjustable, removable shoulder strap
Sides of bag reinforced with a 6mm thick impact resistant frame, to protect contents
Tough rubber base skids to prevent chafe
2-way lockable zip closure for security
Inner hook & loop compatible liner, so internal dividers can be arranged as required
3 zipped external pockets and 3 clear-view internal pockets for leaders etc
Weighs in at a class-leading 2.5kg (5.5lbs) to maximize gear and luggage capacity
Overall dimensions: 36.5" x 10.2" x 5"
Base compartment (internal) dimensions: 35.5" x 9.5" x 4.5"
Volume 25 liters