Online Shopping: To Order, select the color and click "Add to Cart". If you want more than one package, just click "Add to Cart" for an additional unit. Paypal ensures a secure transaction using credit cards.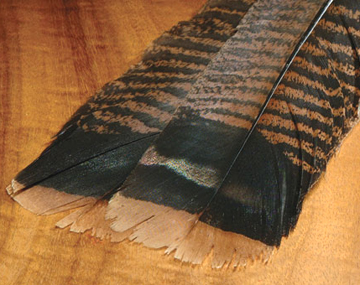 Cinnamon Tip Tails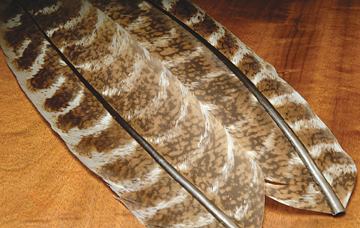 Ozark Oak Mottled Quills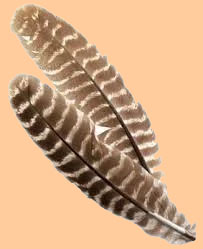 Ozark Oak Barred Quills
Turkey Feathers
Turkey feathers are generally sold as matched pairs and average 12 to 15 inches long. Turkey tail feathers have long, strong barbs that are ideal when constructing feather wings for a flies such as hoppers or muddlers. Barbs from turkey tail feathers are often used in wedded wing patterns on Classic Atlantic Salmon Flies because their speckled pattern.
Ozark Oak Barred and Ozark Oak Mottled Turkey Quills are used on many hoppers, muddlers, and caddis. Ozark Oak Barred and Ozark Oak Mottled Turkey Quills are prized for their rich and naturally variegated color. These barred turkey wing quills are a staple fly tying material in many classic mixed and married-wing Atlantic salmon and steelhead patterns. They're especially popular for topping traditional Dee wing dressings, and are spectacular for trout sized wet flies, nymph bodies, wing cases, muddler minnows, hopper wings, streamers and more. Large Size. $5.75 per pair

Cinnamon Tip feathers are used for wet fly wings, muddler wings, wingcases, and hopper legs.These are natural feathers from the tail of wild or domestic turkeys that display beautiful brown to bronze barring patterns. These are large feathers most useful to fly tyers for winding the fibers as body or making nymph wing cases or for using matched fiber sections to form wings for trout or steelhead flies. $5.00 per pair