Online Shopping: To Order, select the color you desire and click "Add to Cart". If you want more than one package, just click "Add to Cart" for an additional unit. Paypal ensures a secure transaction using credit cards.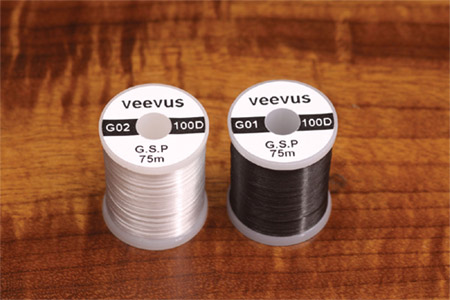 $3.50 per spool
100G
150G
200G
Colors: Black, White
The G.S.P (Gel Spun Polyethylene) is a specialty thread that is known for it's strength and slickness. Especially usefull in spinning hair and tying small flies that need an abnormally strong thread. GSP (gel-spun polyethylene) threads are super slick, strong for their size, have very little stretch (3 percent), and lie flat on the hook.
In difference to other brands, the Veevus G.S.P. thread has been designed with a slight twist - preventing it from opening up, and thereby making tying with it a breeze. The slickness can be a liability in other applications however, particularly dubbing retention, and the dye used to color them is not as stable on GSP thread as it is on other materials, so white and black are the only two color choices. The slickness also provides some issues in cutting with your scissors. In the following sizes: 200 denier, 150 denier, and 100 denier. Each spool contains 75 meters of thread .