Notes:
The Tailwater Sowbug is a pattern designed by Lance Egan of Lehi, Utah. He was a member of Team USA in 13 World Championships and was a 3-time National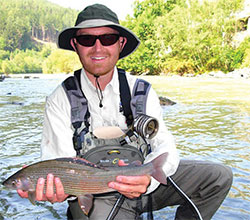 Fly Fishing Champion, including a 3-time World medalist in Team Silver, Team Bronze, and Individual Bronze. The Tailwater Sowbug was designed for fishing both large tailwater rivers and smaller creeks. You can utilize a Tungsten bead to get the pattern deep into the pools or without a bead for the skinnier waters. Sowbugs are an important food source for trout and they live within vegetation-rich waters. Lance will often fish this pattern as a dropper below an indicator dry fly or as a dropper on a Euro rig. The pattern is quite simple with a picked-out dubbed body, some wire ribbing to enhance segmentation and durability and a color-marked back to represent a shellback. A red thread collar is often used for a trigger aspect. He prefers to add a small tuft of tailing fibers which is often absent from the commercially tied flies. The CDC is a recent variation that Lance has added. He wanted a soft hackle and tried Hen Saddle, Partridge, and Grouse but the CDC had the best results and that is what he recommends.
The pattern is tied in sizes 14-18 and can be tied in a number of colors, although the Rainbow Scud Light Shade is the dominant coloration.