Notes: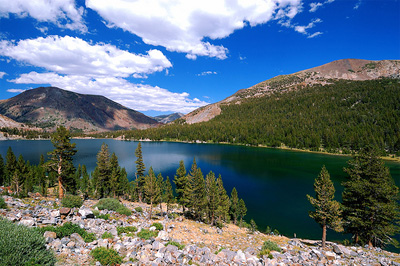 Tioga and Ellery Lake ( elevation: 9,700' ) offer camping and are heavily stocked with Rainbows and Brookies. There are wild brookies, browns, and a rare Golden that respawn within the area. The best flyfishing opportunity is just after ice-out, usually late May, with a float tube. Ellery Lake was named in 1909 after Nathanial Ellery of Eureka, CA while he was constructing the highway through Tioga Pass. At Ellery, the best put-in is at the picnic grounds or near the dam. Large Rainbows will be feeding along the shorelines in the Spring, particularly around the inlet of Lee Vining Creek. During the summer, the DFG plants about 36,000 stockers and these lakes are heavily fished by bait fishermen. Most of the rainbows are in the 13-15 inch class. Tioga Lake (73 acres) is a natural lake which was enlarged by the construction of a rock-filled dam in 1928. It is planted with Rainbows in the 11-12 inch class. The northeast shoreline at the outlet is a good area to float tube. Due to high fishing pressure, your flyfishing choices are probably better served within the local backcountry.
Between Ellery and Saddlebag Lake is Lee Vining Creek. The creek is stocked the rainbows by DFG but also contains a large population of wild brookies in the 7-9 inch class. The creek is best accessed from Sawmill Campground. The creek just about doubles in size with the confluence of Saddlebag Creek and brown trout can be found below the confluence and past the campround. Just before the creek's inlet into Ellery Lake, rainbows are planted near the Hwy 120 bridge at the Junction Campground.

The Tioga Lake Trailhead will take you up to Mine Creek or you can take the 0.75 mile trail from Tioga Junction Campground which follows the creek. Mine Creek has small browns, brookies, and rainbows. The Mine Creek Trail ends at an abandoned mining community known as Bennettville. Two old buildings still stand at the site. This community was part of the Great Sierra Mining Company whose mine is west of Tioga Lake and was abandoned after two years in 1884 when no silver was discovered. Prior to 1860, these waters were fishless and the Browns, Brookies, and Rainbows were most likely planted within these waters during the time of this mining activity, as a food source. Today, this area is within the Hall Natural Research Area, a protected ecosystem. The first lake you'll reach is Shell Lake ( 6 acres) at 9,680' elevation which contains Brookies in the 6-8 inch class. It is about a 1/2 hour hike from Tioga Road (Hwy 120). Going up to Fantail Lake (11 acres) at 10,000' elevation, you will find larger Rainbows and Brookies. The trail to Fantail is a moderate climb of about 500' for 2.75 miles. Finally, Spuller Lake can be reached at 10,275' and this 6 acre lake contains just Brookies. The lakes are sustained by caddis, mayflies, midges, and the terrestrials that are blown in.

The Sawmill campground trailhead off Saddlebag Lake Rd. will take you along Slate Creek. Taking the left fork of the creek you will arrive at Green Treble Lake at 10,217'. This lake (actually two closely proximated) and the creek have Brookies and Kamloop Rainbows. Next to Green Treble is Maul Lake at 10,221 feet elevation with Brookies. From Green Treble, you can hike up to Big Horn, Finger, and Spuller Lakes which are composed of Brookies. Above the glacial bowl of Finger Lake, is a glacier known as "The Whale". Alpine Lake (7 acres) at 11,350' elevation takes the right fork of the Slate Creek Trail and has both Goldens and Brookies there.

The Gardisky trailhead is 1 mile from the turn-off on Saddlebag Lake Road from Hwy 120. The 45 minute hike is a little over one mile and steep going up to 10,760'. Gardisky Lake (24 acres) contains some larger Brookies up to 14" in length. Fish the near side of the lake and bring waders as this lake is shallow for the first 20'. Gardisky Creek is the outlet and this creek meets up with Lee Vining creek just below Hwy 120 below Ellery Lake. The season for this area is the last Saturday of April to November 15th. Snow conditions may close access.
Fishing Regulations (Effective March 1st, 2021)
Ellery, Saddlebag, and Tioga Lake:
Open all year, five trout daily bag limit, 10 trout in possession.
All other Lakes and Reservoirs in Inyo and Mono Counties (except Bridgeport Reservoir and tributaries; Convict Lake; Crowley Lake; George Lake; Grant Lake; Gull Lake; Horseshoe Lake; June Lake; Lundy Lake; Mamie Lake; Mary Lake; Rock Creek Lake; Sabrina Lake; Silver Lake; South Lake; Twin Lakes (Mammoth); Twin Lakes, Lower and Upper (Bridgeport); Virginia Lake, Lower and Upper):
Open all year, five trout daily bag limit, 10 trout in possession.
All other creeks and tributaries:
From the last Saturday in April through November 15, 5 trout daily bag limit, 10 trout in possession; and, from November 16 through the Friday preceding the last Saturday in April, 0 trout bag limit, artificial lures with barbless hooks only and trout must be released unharmed and not removed from the water.