Directions: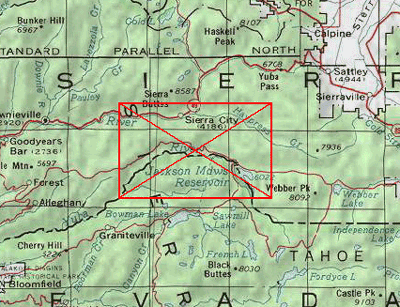 From Truckee at Interstate 80 and Highway 89, drive 14.9 miles on Highway 89 north to Road 7 (Fibreboard Road). Jackson Meadows Reservoir is 17.3 miles on Road 7. You can get to Middle Fork at the Gates of the Antipodes and the box canyons via Henness Pass Road from Jackson Meadows Reservoir. 0.4 miles below Milton Reservoir is a dirt road off Henness Pass Road that goes to the MF Yuba. You can park there and access the MF Yuba downstream. Gates of the Antipodes is 4.2 miles below the road crossing.
Notes:
The MF Yuba has difficult access using Henness Pass Road to reach the first impoundment dam at Jackson Meadows Reservoir. Below Jackson Meadow is another impoundment dam, Milton Reservoir. Between Jackson Meadows and Milton reservoirs, the MF Yuba is artificial only with single barbless hooks and zero take. Below Milton, the MF Yuba is rugged canyon water with rainbows 10-14 inches. Box canyons start at an area known as The Gates of the Antipodes and the MF Yuba plunges into steep descents with plunge pools and cascades. Large Browns are known to inhabit the deeper pools.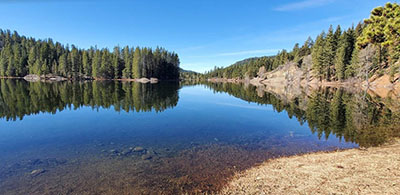 Milton Reservoir: This is a 27-acre, shallow lake located about 2 miles below Jackson Meadows Reservoir at an elevation of 5690'. It is part of the Wild Trout Program of DFG and is home to trophy-size trout. The lake requires barbless lures or flies and is catch & release only. By adjusting the regulations so that the larger Browns remain within Milton Lake, the trout have been able to outcompete the Bullheads which were feeding upon the smaller trout and keeping the trout populations low during the 1980's. Season is the last Saturday of April to November 15. It can reached by traveling about 17 miles on Henness Pass Road from Hwy 89, north of Lake Tahoe. The lake was drained in 1993 and the bottom was excavated with a 8 to 10 foot deep trench with lateral trenches in a "herringbone" pattern. The trout move into the shallower areas to feed in the early and late parts of the day and retreat to the main trench midday. Numerous substrate improvements were made to provide habitat for native crawdads. The lake was restocked with two different strains of browns which have reached 18" to 22" inches by 1998. Large rainbows also inhabit these waters. These trout use the Middle Fork of the Yuba between Jackson Meadows and Milton to spawn. Usually sometime in June is the best time to start fishing here as the water is near 40 degrees due to the snowmelt prior to June. July and August are excellent times to fish. The lake is best fished from float tubes as large weed beds hug the shores. The south shore is forested up to the shoreline and the north shore is rocky.
There are numerous hatches of midges, caddis, and callibaetis. Chironomid patterns can be used throughout the season. The size decreases from a #12 in the Spring to a #20 by late Summer. The Chironomid patterns that are most effective are in the gray, olive, rust, orange, and black colorations. The Callibaetis hatch starts in June and begins around mid-morning. Use emerging duns, then spinners. A Gray Drake hatch (Adams #10) also occurs in June. Effective patterns are PTN (#12 to 14), Callibaetis emerger, Crippled Mayfly, Adams, and midges(#18 to 22) along the edges of the weed beds. During midday or when no hatch is present, try Brown or Olive Woolly Buggers(#8-10). As on any Sierran Lake, Flying Ant patterns can also be very effective in sizes 12-14. Due to the high Crayfish population along the rock edges on the North Shore, use an Orange-Brown Woolly Bugger.
Suggested tackle is a 3-5 weight rod with a WF Floating Line, a Sink-Tip Line, and a Full Sinking Line. Leaders should be 9 foot with a 5x to 7x tippet.

Jackson Meadows Reservoir: (1,000 acres at 6,000 feet elevation) This is a large reservoir with paved road access. The result is 140 campsites and mobs of people. The lake gets stocked with over 16,000 pan size rainbows each year as well as 60,000 rainbow fingerlings and 10,000 brown fingerlings. Using a float tube, the best fishing occurs in early summer where Pass Creek enters the lake near the Pacific Crest Trail. Submerged weed beds there produce decent hatches. Another good area is where the Middle Fork of the Yuba enters the lake.

Middle Yuba below Milton Lake: The Middle Yuba is drained at Milton Reservoir by an aquaduct moving the water to Bowman Lake and Spaudling Reservoir. It regains water from springs and streams and the fishing picks up below the Box Canyons at East Fork Creek. There are large browns that inhabit this stretch of the Yuba in the 18" size range. Most fishing this area will work downstream with a stay over at East Fork Creek and a climb out at Graniteville or Plumbago further downstream. Downstream near Graniteville, there are mostly rainbows in the 9-12 inch class. Mayflies and Caddis hatches are common during the season. BWO's will show up in the Fall.

Fishing Regulations (Effective March 1st, 2021)
Middle Fork Yuba River, with exceptions shown below:
From the last Saturday in April through November 15, 5 trout daily bag limit, 10 trout in possession; and, from November 16 through the Friday preceding the last Saturday in April, 0 trout bag limit, artificial lures with barbless hooks only and trout must be released unharmed and not removed from the water.
Milton Lake and Middle Fork Yuba River (Nevada and Sierra cos.) between Milton Lake and Jackson Meadows Dam:
Open all year. Artificial lures with barbless hooks. 0 trout.

 Macklin Creek (Nevada Co.), arising near Milton-Bowman Tunnel alignment, flowing northwesterly and having its junction with the Middle Fork Yuba River about 2-1/2 miles downstream from Milton Reservoir.
Closed to all fishing all year.
All other Lakes:
Open all Year. No restrictions. 5 trout per day. 10 trout in possession.