Notes: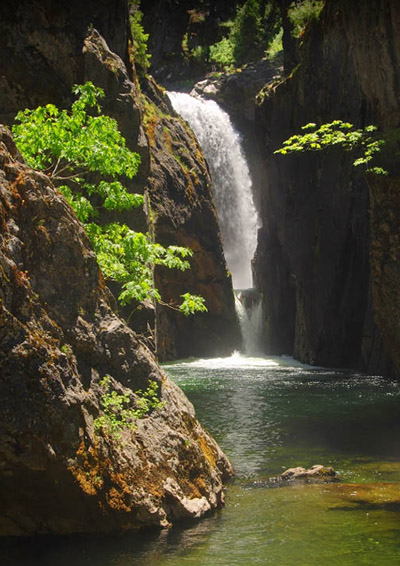 The North Fork of the American is a State and National Wild and Scenic River. The river flows from Mountain Meadow Lake at 7,900 ft. and joins the Middle Fork American River near Auburn. Within the headwaters, three small streams join near The Cedars to form a significant flow. The river drops about 1500 feet as it enters Royal Gorge. Below the gorge is your best opportunity for access and fishing. There are three trails providing river access at Sailor's Flat, Beacroft, and Mumford Bar. The 8 miles long American River Trail links these trails along the river. The 37 miles stretch above the bridge at Iowa Hill Road near Colfax is in the California Wild Trout program, so that no fish are planted in this section. The bridge is also the only drive-in access to the North Fork Wild Trout section. The Wild Trout section ends at the confluence of Palisade Creek.
The river consists of deep pools, as well as cascading waterfalls, with riffles, runs, and pocket water. Steep canyon slopes frame a narrow bottom. Most of the fish are Rainbows in the 8-15 inch size. Occasionally, you'll find some larger Browns. Flows drop substantially by August and September. Fishing is open year-round with the General Fishing Season ending Nov 15th. From Nov 16th to the last Saturday of April, it is C&R only with single barbless hooks.
The North Fork American has typical hatches of Caddis, Mayflies, and Golden Stones. Crystal Buggers work well, try yellow, black, and olive colors. Also use attractor beadhead nymphs as well as dries such as Adams and Humpies.

North Fork of the North Fork American River: This is a tailwater tributary out of Lake Valley Reservoir. It consists of small pools with rocky runs and pocket water. Near the reservoir, the tributary is mostly Browns in the 9-12 inch class. The North Fork campground is about 3 miles downstream where Forest Road 19 crosses and is reached from the Emigrant Gap exit off I-80. This stretch gets planted with Rainbows, many Browns remain mixed with the Rainbows. The wild trout will occur a short distance either upstream or downstream from the campground. Rainbows will be 6-10 inches.

East Fork of the North Fork of the North Fork American River: This is a small stream with Rainbows in the 6-9 inch class. It contains small pools with runs and pocket water. It can be reached from Forest Road 19 about 7 miles past the North Fork campground.
Lake Spaulding: (700 acres at 5,011 feet elev) The lake resides within a glacial granite bowl but additional damming was done in 1912 to provide ample water for Hydraulic mining downstream. Best fished in early Spring and the Fall.  Department of Fish and Game stocks the lake with 15,000 rainbows and 5,000 brown trout along with Chinook Salmon. 
Lake Valley Reservoir: (300 acres at 5893 feet elev) 10 mph limit for boats. Rainbow trout are the only species of fish that the California Department of Fish and Wildlife (CDFW) currently plants at Lake Valley. The Department most years stocks around 4,000 pounds of rainbows in the reservoir. The lake also hosts a sleeper population of German brown trout. Contains Browns and Rainbows.
Kelly Lake: No motorized boats allowed. Contains Browns and Rainbows.
Cascade Lakes: No motorized boating allowed. Consists of three lakes, all containing self-sustaining Brookies. Only the Lower Cascade is supplemented with an additional 1000 fingerling Brook Trout each year due to high fishing pressure.
Long Lake: (6,620 feet elev) Stocked with about 2,000 rainbow fingerlings each year.
Kidd Lake: (89 acres at 6,628 feet elev) The lake was stocked with Brookies annually from 1952 to 1993. It has a maximum depth of 54 feet. There are four campsites and only those that rent a campsite are allowed to fish the lake.
Salmon Lake: (6,700 feet elev) Stocked with about 500 Rainbows each year.
Serene Lakes: (6,872 feet elev) This used to be three lakes: Sybil, Dulzura, and Serena, until a dam was built that flooded the three lakes together. The shoreline is owned mostly by home owners who also stock the lake with Rainbows and Brookies. Only about 100 yds exist for public access.
Loch Leven Lakes: Four Lakes. Lower Loch Leven is 12 areas with a 16 feet maximum depth. The lakes cannot sustain rainbows and the lake is shallow enough that Brookies do not survive either. Brook Trout were lasted planeted in 2000 and Rainbows up to 1997. Gill netting showed no fish in 2016. The other three lakes, Upper, Middle, and High were also subject to Brookie aerial drops that were suspended after 2000. There are no frog issues here and CDFW may resume stocking of rainbows. But for now, Most Likely fishless.