Notes: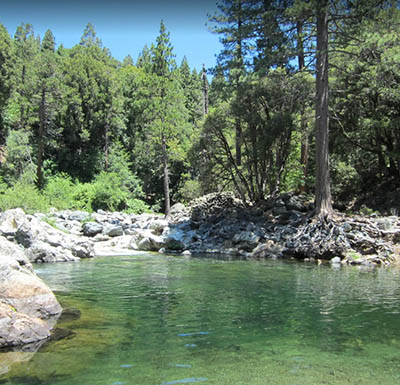 The headwaters of the NF Yuba starts with two small creeks that converge beneath Yuba Pass. The headwaters are small and brushy for about 6 miles to the community of Bassets. They contain small 6-7 inch brookies and a unique strain of rainbows that have large leopardlike spots and a deep-red stripe beneath it. They also have parr marks and a distinctive white edge on their anal fins. Prior to 1997, this upper section of the area contained beaver ponds which were washed-out and the beavers did not return. Within the lower section, you will find Brown Trout in the undercuts and next to large rocks in the shallow pools and runs. Attractor Dries and Caddis patterns in the size 14-16 is preferred. Below Bassets, Salmon Creek enters adding quite a bit more water to the river and the dominate fish are the Rainbows which have a more silvery appearance. Most of these Rainbows will be less than 10". The river is mostly pocket water with some deep pools. Use attractor dries with a nymph dropper.

The NF Yuba has a "Wild Trout" regulated water between Sierra City and Ladies Canyon. This 4 mile section comprises of deep pools and heavy pocket water. Regulations are single barbless hooks, artificial lures and a take of only 2 trout, 10 inches or greater. Most of this section contains Rainbows in the 10-16" size. Some large Browns up to 4 lbs can also be found here. These browns are probably migrating upstream from Bullard's Bar Reservoir. A number of hatches occur within this section: Golden Stoneflies (May-June), Little Yellow Stones (June-July), and Baetis during the late Summer and Fall within the slower sections. A strong October Caddis hatch occurs in October where many use Orange Stimulators size 6-10. Outside of the hatches, try Elk Hair Caddis, Buzz Hackle, Humpys, Renegades, Pheasant Tail and Hares Ear Nymphs in sizes 12-16 as a attractor dry-nymph dropper combination.

Recent regulation changes now allow Winter fishing between Sierra City and Bullard Bar Reservoir. It is catch and release only with single barbless hooks, artificial lures only, from Nov 15th to the last Saturday of April. The fishing is slow during this period, however, as the trout will remain within the deepest pools while their metabolism is quite slow due to the cold water. Flows will also be up during the rainy season making fishing difficult. The fishable flows are usually less than 800 cfs and this might not occur until after Spring runoff in mid-May but the optimum fishing flows will be later in the season at 150 to 300 cfs.

Attractor Dries and nymphs can be used throughout the Upper NF Yuba all season. Traditional wet fly fishing will work during the early season and also on the summer evenings of May through September when the caddis hatch. An important hatch of Serratella tibialis occurs on early summer evenings of Mid-June to August. These are a cream-orange mayfly about size 16. A light Cahill or a creamy-orange Sparkle Dun will work well.
Rust-colored mayfly spinners will fall in the summer evenings in size 14-18, in addition to some pale colored duns. The Golden Stoneflies are common in May to Mid-July and a size 6-10 Stimulator will work well. The October Caddis will occur in late season during October and November, generally in the upper regions of the Wild Trout area. The BWO hatch is usually sparse in the upper river.

Lavezzola Creek is a Spring Creek of pools, runs, and pocket water. It contains 8-12 inch wild Rainbows. It is designated a "Wild Trout" stream with a five fish limit.To reach the creek, take Lavezzola Road out of Downieville and proceed 3 miles where the road crosses the creek. Downie River and Pauley Creek form the triumvate of the streams as they converge together prior to emptying into the Yuba.

Pauley Creek is a Spring Creek with pools, runs, and pocket water. The flow doubles with the junction of Butcher Ranch Creek. Pauley contains a self-sustaining population of Coastal Rainbows 7-12 inches. Due to this population, the creek was classified as "Wild Trout" in Dec. 2014 by the California Fish and Game commission. It can be reached by trail from Lavezzola Road on the Third Divide Trail. Also try fishing up Butcher Ranch Creek as it has brookies 7-9 inches within plunge pools.

Haypress Creek is a rocky plunge-pool stream when it enters the Yuba River. There is a stretch where it pools by the Wild Plum Campground. The headwaters of Haypress contain brook trout in the 6-8 inch range. About a half mile below Long Valley Creek, a six foot fall occurs beneath which have a number of pools with Rainbows up to 12". DFG had planted trout within the Wild Plum Campground but this has been discontinued until 2010 when a reassessment will be made.

Milton Creek is a tributary to Haypress Creek. It contains small pools and runs and is easily accessed by the Pacific Crest trail. The creek contains Rainbows in the 7-10 inch class.

Salmon Creek is the outflow from the Lakes basin area. It mostly consists of small rocky pools and pocket water. While the flows are good during early and mid-summer, rainbows reside here in the 7-10 inch class. Early in the season you have a chance at catching some Brookies that have washed down from the Lakes Basin during the Spring runoff up to 15 inches. These Brookies will often find protection within the deeper pools. Fish between the Hwy 49 bridge and Packer Creek. Above Packer Creek, the flows are very small.

Lincoln Creek is a small Spring Creek that forms the headwaters of the NF Yuba River. It contains both Rainbows and Browns in the 7-11" class. The stream starts as a meadow stream and becomes pool and pocket water until it meets the North Yuba.

Lakes Basin Recreation Area: (Click the area within the above map for details)
Gold Lake (ele: 6,407 feet) is part of the Lakes Basin and is the largest natural Lake in the Plumas National Forest. Flyfishing is best around the shallows of the shoreline. The lake holds large Browns and Rainbows, as well as Brookies and Mackinaw Trout. The natural feed in Gold Lake is Crayfish and red-sided minnows. Mohair Leech and Bugger patterns work well stripped on a sinking line. When the fish are feeding on the surface, try Griffith's Gnat, Parachute Adams, and ant patterns. Below Gold Lake are two smaller lakes, Snag and Haven Lakes. Snag contains some holdover Rainbows and Haven consists of small brookies.
Long Lake contains Kamloop Rainbows and is ideal for float tubing. Woolly Buggers on a sinking line is your best bet. There are a number of other lakes on a loop trail (3.75 miles) from Gold Lake Lodge. These lakes include Big Bear Lake, Little Bear Lake, Cub Lake, Silver Lake, and Round Lake. All of the lakes contain fish, mostly small rainbows and brookies.
Jamison Lake Area: (Click the area within the above map for details)
Within the upper Jamison Creek watershed are four lakes, Jamison Lake, Rock Lake, Wades Lake, and Grass Lake. These lakes can be accessed from either the Long Lake Trailhead or the trailhead from the Plumas Eureka State Park. Jamison Lake and Rock contain small brookies in the 8-9 inch class. Wades and Grass Lakes have both rainbows and brookies in the 9-10 inch class.
Salmon & Sardine Area: (Click the area within the above map for details)
Packer Lake is a small lake (ele: 6,245 feet) containing stocked rainbows. The lake is 3 miles on a paved road from Gold Lake Road. Easy access for those with float tubes. Area has numerous campsites and the lake is heavily used.
Lower Sardine Lakes is a very productive lake for brookies and Rainbows. It is best fished from a boat or those having a float tube. The Upper Sardine Lake contains small Brookies and recieves no additional stocking at this time.
Lower Salmon Lake is ideal for float tubing. It contains rainbows 10-15 inches. Callibaetis, damselflies,caddis, and midges exist within the lakebed. The fish bite is generally slow during the midsummer days but will show rises during the evenings. Access is by way of Gold Lakes Road from Bassetts for 3.9 miles, turn left for Salmon Lakes Lodge. In 0.5 miles a pullout exists with access to the lake.

Fishing Regulations (Effective March 1st, 2021)
North Fork Yuba River:
From the western boundary of Sierra City to the confluence with Ladies Canyon Creek.: Open all year. Artificial lures only. 2 trout limit.
From Ladies Canyon Creek downstream to New Bullards Bar Reservoir. : From the last Saturday in April through November 15, five trout daily bag limit, 10 trout in possession; and, from November 16 through the Friday preceding the last Saturday in April, 0 trout bag limit, artificial lures with barbless hooks only and trout must be released unharmed and not removed from the water.
All other Tributaries:
Last Saturday in Apr. through Nov. 15. No restrictions. 5 trout limit. Ten trout in Possession
All Lakes:
Open all Year. No restrictions. 5 trout per day. 10 trout in possession.