Directions: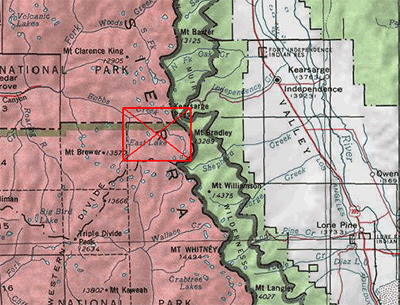 Kearsarge Pass is the closest trailhead. It can be accessed from the Onion Valley trailhead (elevation 9,200 feet) out of Independence by way of Hwy 395. Within Independence, turn left (west) on the Market Street, signed for the Onion Valley. Market Street turns into the Onion Valley Road in 0.2 miles. Follow the Onion Valley Road for 12.8 miles to the trailhead parking area. The trail head is located at the west end of the smaller parking area. Take the trail over Kearsarge Pass intersecting the JMT/PCT within 6 miles. Following the JMT/PCT south for 1.5 miles will drop you into Vidette Meadows of Upper Bubbs Creek. A total of 7.5 miles from the trailhead.
From the West side, the trailhead at Road's End takes you along Bubbs Creek on the Bubbs Creek trail for 11 miles reaching lower Vidette Meadow. This is often the return loop segment for the famous Raes Lake Loop trail.
Notes: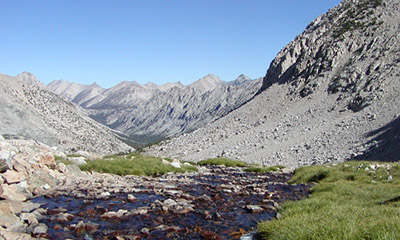 Kings Canyon National Park encompasses the Upper Bubbs Creek area. Prior to 1973, many of the streams and lakes were planted with trout. This practice had some drawbacks to the native biota such as amphibians. After 1988, all fish planting within the park was discontinued. Park streams and lakes were managed for a sustainable fishery. Those streams and lakes that could not support a fishery were allowed to go fishless. However, by 1990, it was evident that certain amphibians such as the Mountain Yellow Legged Frog (MYLF) had not recovered enough and a management plan was implemented to eradicate certain lakes and streams of non-native fish. By 2013, 15 lakes and ponds were eradicated of fish. Over the next 25 years, the Park intends to eradicate another 70 lakes, streams, and marshes to reach a 15% level of fishless habitat. Most of these fish removals are within the higher elevations of the park and many are fishless due to the unsustainability of fish within these waters due to lack of food source, lack of spawning grounds, and shallow depths lacking winter survival during freezing periods.

Bubbs Creek: The trail out of Onion Valley hooks up with the Pacific Crest Trail just past Bullfrog Leg at 5.5 miles. Bubbs Creek is another 1.5 miles past that point.The creek consists of Rainbows and Browns below Vidette Meadow and Goldens upstream from Vidette Meadows. Near Vidette Meadows there may be Browns 8-10 inches and Brookies 6-8 inches. Above Vidette Meadows, the creek has Golden Hybrids that are also mostly 6-8 inches but can reach up to 11 inches. The Center Basin of Bubbs Creek also has Golden Hybrids but this area has been scheduled for piscicide treatment within the near future. The headwaters of Bubbs Creek upstream from the confluence with the Center Basin is fishless. Some of the marshy areas within this section of the stream is scheduled for piscicide treatment.
Golden Bear Lake: This lake consists of Rainbows and Goldens. About 12.5 miles from Onion Valley Trailhead at 11,200 feet. It is also scheduled for gill-netting to remove all fish for the MYLF restoration program. The waters above Golden Bear Lake are fishless.

Vidette Creek and Vidette Lakes: Up to 10,480' elevation. Consists of Brookies, 7-9 inches. The higher lakes and streams above 10,820 will have fish removed by physical methods, either gillnetting or electroshocking. A natural barrier (waterfall) will keep the brookies from gaining entrance.

Bubbs Creek flows in a northwest arc to the SF Kings River. It meets East Creek at Junction Meadow. The East Creek Trail follows East Creek to East Lake and Lake Reflection.

East Creek: The creek extends about 1.8 miles from Junction Meadow to East Lake at an elevation 9,500'. The creek consists of Rainbows and Brookies up to 8 inches.

East Lake: At an elevation of 9,500' . Consists of Rainbows and Brookies up to 11-12".

Lake Reflection: 3.5 miles from Junction Meadow at an elevation of 10,005'. Consists of Rainbows and Golden Hybrids up to 12"
Fishing Regulations (Effective March 1st, 2021)
Vidette Lakes:

Open all year. No restrictions. 5 trout per day. 10 trout in possession.

All other lakes within Kings Canyon National Park:

Open all year. No restrictions. 5 trout per day. 10 trout in possession.

All creeks and tributaries:

From the last Saturday in April through November 15, five trout daily bag limit, 10 trout in possession; and, from November 16 through the Friday preceding the last Saturday in April, 0 trout bag limit, artificial lures with barbless hooks only and trout must be released unharmed and not removed from the water.