Notes: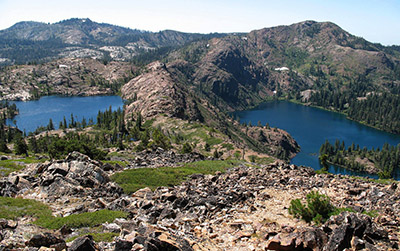 The upper Yuba drainage consists of the headwaters of both the Middle Fork and South Fork of the Yuba River. Most of the water from these river systems is diverted to nearby reservoirs and lakes. Their flow picks up further downstream from springs and other tributaries. The upper Yuba drainage is also home to many fine lakes with access by 4 wd vehicle and trail systems.

Jackson Meadows Reservoir: This is a large reservoir with paved road access. The result is 140 campsites and mobs of people. Best fishing occurs in early summer where Pass Creek enters the lake near the Pacific Crest Trail. Submerged weed beds there produce decent hatches. Another good area is where the Middle Fork of the Yuba enters the lake.

Bowman Reservoir: This is a large reservoir with Browns in the 12-16 inch range. Lake levels fall creating islands on the south shore. This area offers decent flyfishing opportunities using Mosquitos (#12) or Ants (#16). Stump areas work well with sinking lines and buggers.

Weaver and McMurray Lake: Weaver and McMurray Lakes have Browns and Rainbows in the 10-16 inch class. Weaver is larger and deeper, with more trout than McMurray. Weaver will also contain Brookies, Lake Trout, and some monster Browns that were transferred here from Milton Lake. Best action is early morning when the water is cool, using Olive or Brown Woolly Buggers (#8-10). Fall is the best time of year here as this lake can get real spotty in the action.

Faucherie Lake: This lake holds rainbows, browns, and brookies in the 12-15 inch range. Two inlets from French Lake and Five Lakes Basin are your best spots from the banks. Windy conditions may hold down the bite but fishing the outlet into Canyon Creek will result in 8 to 12" browns.

Carr Lake and Feely Lake: Carr and Feely are heavily used for camping. Fishing is rather so-so. Carr has Brookies and Rainbows. Feely also has these trout but retains a rather large population of Bullhead Catfish which prevent the trout from flourishing. The Bullheads were supposedly planted by Chinese laborers while building the railroad in the 1800's, for a food source.

Penner Lake: Penner Lake contains Rainbows from 10-18" and some excellent Brookies. Best fishing access is from the east side. Try weighted nymphs.

Culbertson Lake and Lindsey Lakes: These lakes hold excellent populations of Rainbows and Brookies. At Lower Lindsey the best fishing is at the inlet side using dries in the evening and Black Ants(#12) during the day. Upper Lindsey can be even better than Lower Lindsey, try fishing the north end. Culbertson is deeper and is best fished with sinking lines using weighted streamers along the eastern side.

Rucker Lake: 89 acre Rucker Lake (ele 5,462 feet) consists of largemouth bass, brown bullhead and bluegill. It is about 5 miles up the Bowman Road just past Fuller Lake. There are two turn-offs to the lake by dirt roads. The first turn-off takes you to the southern side of the lake, the other to the northern shoreline. A jeep trail proceeds from the northern dirt road up to Blue Lake. In 1985, it was stocked with over 2,000 Goose Lake Redband Trout. Currently, the Redband population is doing well. The best fishing is from the north shore, particularly at low light. The lake is relatively shallow with weedy shorelines, best fished from either float tubes or canoes. The bass will hit on standard yellow or white poppers as well as most stillwater flies such as Olive Matukas, Olive Woolly Buggers and Blue or Green Clouser Minnows.

Blue Lake: Blue Lake has Rainbows and Brown Bullheads but most of the fish remain deep and are hard to reach from the bank. Best action is from the North shore. You have to either hike to the lake from the parking lot at Rucker or drive a rough 4-wheel drive road to the lake. The lake is at 5,964 feet elevation.

Fuller Lake: This lake is heavily stocked with rainbows and browns.The lake receives about 2,000 lbs. of browns and 4,500 lbs. of rainbows each season. Most fish around the dam due to access but the better flyfishing can be had along the eastern shore where the larger Browns cruise. Generally the depth is 4-8 feet, so use a Type III sinking line and an unweighted Olive or Brown Bugger pattern. Most fish are in the 10-12 inch range. Starting in May, a callibaetis hatch comes off in the evening and continues through August. Damsel Nymphs get active in June with the hatches occuring during the afternoons in July and August.

Canyon Creek: A plunge pool stream out of French Lake for 1.5 miles. The creek enters Faucherie lake and outfalls with long pools to Sawmill Lake. From Sawmill, it continues onto Bowman through a canyon with small pools and runs. The creek contains both Rainbows and Browns in the 8-12 inch class. A trailhead from Bowman Road will get you to the upper areas of the creek.

Fordyce Creek: An 8 mile tailwater stretch of water from Fordyce Lake to Spaulding Lake. Fordyce Creek contains many pools, runs, and pocket water. It has Rainbows in the 8-14 inch class as well as some browns. Best access is by way of the trail from Eagle Lakes.


Fishing Regulations
Middle Fork and South Fork Yuba River:

Last Saturday in Apr. through Nov. 15. No restrictions. 5 trout per day. 10 trout in possession.

All other creeks and tributaries:

Last Saturday in Apr. through Nov. 15. No restrictions. 5 trout per day. 10 trout in possession.

All Lakes and Reservoirs:

Open all year. No restrictions. 5 trout per day. 10 trout in possession.