Notes: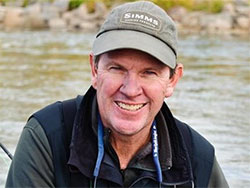 The UV Scud is a pattern designed by Pat Dorsey, the co-owner of Blue Quill Angler fly shop in Evergreen, Colorado. According to Dorsey, "The UV Scud is a pattern that all tailwater junkies should carry in their arsenal of flies. Scuds are freshwater crustaceans that provide a high protein food source for trout in both stillwater impoundents and the tail races below. The UV Scud was developed to imitate the Gammarus specimens. Olive scuds (living scuds) are a great attractor year-round as opportunistic trout are always looking for them. Orange scuds are particularly effective during the spring months because fluctuating flows routinely flush-out dead scuds from the substrate into the drift. Trout also readily take an orange scud as an egg during the spring season, so they are twice as effective."

"Scuds have a shrimp-like appearance with a tail, segmented body, shell back, and antennae, all key characteristics that must be accounted for when designing impostors. My seine samples prove that scuds have a brilliant UV sheen to them, thus the UV Scud was born. The UV Scud incorporates Antron into the design for the tail and antennae, Hareline's UV Ice Dubbing for the body, and a plastic shell back ribbed with mono-filament to create a life-like look, with the final touch, pulling down the legs (dubbing) with a bodkin. Scuds are powerful swimmers, so legs are an important part of their design."

"While common wisdom is to fish scuds and freshwater shrimp imitations along the bottom, I have found that targeting the middle of the water column around grass beds to be particularly effective. Will scuds produce when bounced along the bottom on a heavy nymph rig? Of course they will. But keeping your flies near the grass will usually uncover fish that have their guard down in pursuit of a meal."

"Keep in mind: scuds usually live amongst the weeds, using the plants for both food and protection from predators. When the grass gets washed downstream during bumps in river flows, the scuds become dislodged and wash downstream. The same thing happens when the grass dies off and floats down. The key is to identify the pockets and tailouts that the vegetation is being pushed into. Here, you will usually find a pod of trout eating them like candy."