Directions: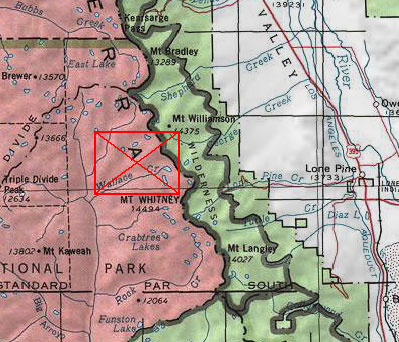 From the East Side, there are two trailheads to access Wright Lakes/Wallace Creek. One is taking the Shepherd Pass trail from the Symmes Creek Trailhead (5,700'), 11 miles with a 6,000' gain to 12,050'. To reach the trailhead, turn west onto Onion Valley Road and travel 4.3 miles. Turn south onto Foothill Road and travel 3 miles to the Stock Trailhead. If you have high clearance, you can continue another .6 miles to 14S102 and drive west for 1.5 miles to the Hiker Trailhead. It is 12 miles from the trailhead to Shepherd Pass and another 9 miles to Wallace Creek. The other trailhead is Whitney Portal out of Lone Pine. It is 8.3 miles from the trailhead to Trail Crest. Then, another 11 miles to Wallace Creek along the John Muir Trail.
Notes: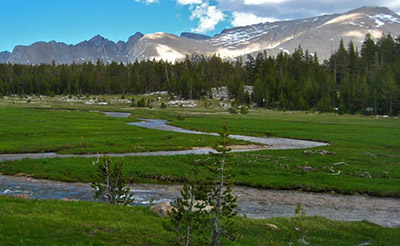 Wright Lakes and Wallace Creek has had a long history of fishing lore. The Sierra Club was active within this area in planting rainbows and goldens during the early 1900's. Later, the DFG of California would bring in mule teams loaded with fingerling trout from the Mt Whitney hatchery. Aerial flights dropping fingerlings into the lakes behind Mt Whitney were prevalent in the 1950's and 60's. Charles McDermand wrote of this area within his book, Waters of the Golden Trout Country, that this area had some of the finest fishing in the world. Lakes, such as Wallace Lake and Wright Lake, were acclaimed with 22-24" Goldens. Celebrities such as Brig Gen. Chuck Yeager would write memoirs of the quality fishing within area and a beautiful 18" Golden caught by him still resides in Lone Pine. The fishing is still quite good but not quite as exceptional as in those earlier years. This is high elevation country above 10,000'. Food is limited and the productive periods of growth are short. With growing population numbers of fish, the average size became smaller. Once fish stocking was discontinued, some lakes and streams became fishless, once again.
Sequoia National Park encompasses the Wright Lakes/Wallace Creek area. Prior to 1973, many of the streams and lakes were planted with trout. This practice had some drawbacks to the native biota such as amphibians. After 1988, all fish planting within the park was discontinued. Park streams and lakes were managed for a sustainable fishery. Those streams and lakes that could not support a fishery were allowed to go fishless. However, by 1990, it was evident that certain amphibians such as the Mountain Yellow Legged Frog (MYLF) had not recovered enough and a management plan was implemented to eradicate certain lakes and streams of non-native fish. By 2013, 15 lakes and ponds were eradicated of fish. Over the next 25 years, the Park intends to eradicate another 70 lakes, streams, and marshes to reach a 15% level of fishless habitat. Most of these fish removals are within the higher elevations of the park and many are fishless due to the unsustainability of fish within these waters due to lack of food source, lack of spawning grounds, and shallow depths lacking winter survival during freezing periods.

Wallace Creek: The Sierra Club planted Goldens in Wallace Creek in 1909. Most of these fish are in the 6-8 inch class. Wallace is about 15 miles from Whitney Portal Trailhead. It flows from Wallace Lake to the Kern River. The High Sierra Trail meets up with PCT at Wallace and can provide good access to the creek for 2 miles before entering the Kern.
Wallace Lake: Tucked at the foot of the Sierra Crest is Wallace Lake at 11,470 feet. You have to hike off-trail about 3.5 miles along Wallace Creek to reach the lake, a 1000' gain. Wallace is deep with some large Goldens. At one time, it had a reputation of having Goldens up to 22". Most of the Goldens caught there today are in the 12-14' range.
Wales Lake: Elevation 11,720 feet. This lake is fishless.
Wright Creek: About 1/2 miles past Wallace Creek on the Pacific Crest Trail. Wright flows into Wallace below the trail. There is about 2 miles of fishable water from the trail up to Wright Lakes with an elevation gain of 330 feet up to 11,120 feet. Consists of Goldens, 6-8 inches.
Wright Lakes: Elevation is 11,120 feet to 11,500. Follow Wright Creek from the Pacific Crest Trail for about 2 miles up to the lakes. The total mileage is about 17.5 miles from Whitney Portal Trailhead. Consists of Goldens and Rainbows in the 12-13" range. The largest lake below Mt. Versteeg had a reputation in the 1940's of producing Rainbows in the 22-24" range. Today, they are mostly 12-14 inches in size.
East Wright Lakes: Elevation is 11,400 feet to 11,800. The upper two lakes are fishless, the lower two lakes will have the fish removed by physical means, ie gill netting or electroshocking.
Tyndall Creek: Consists of Brooks and Goldens. The larger fish are downstream of the trailside camp at PCT. This freestone stream feeds into the Kern River and has a trail that follows it for two miles before it drops steeply into the Kern. Tyndall Creek is about 19 miles from either Onion Valley or Whitney Portal Trailhead.
Fishing Regulations (Effective March 1st, 2021)
Wallace and Wright Lakes:

Open all year. No restrictions. 5 trout per day. 10 trout in possession.

All other lakes within Sequoia National Park:

Open all year. No restrictions. 5 trout per day. 10 trout in possession.

All creeks and tributaries:

From the last Saturday in April through November 15, five trout daily bag limit, 10 trout in possession; and, from November 16 through the Friday preceding the last Saturday in April, 0 trout bag limit, artificial lures with barbless hooks only and trout must be released unharmed and not removed from the water.