Notes: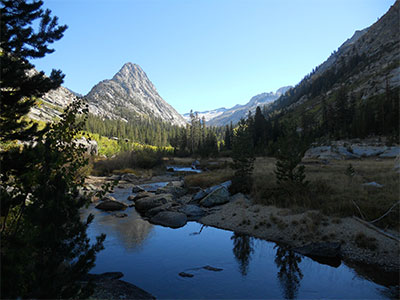 Kings Canyon National Park encompasses the northern half of the Western Divide region and Sequoia National park encompasses the southern half. Prior to 1973, many of the streams and lakes were planted with trout. This practice had some drawbacks to the native biota such as amphibians. After 1988, all fish planting within the park was discontinued. Park streams and lakes were managed for a sustainable fishery. Those streams and lakes that could not support a fishery were allowed to go fishless. However, by 1990, it was evident that certain amphibians such as the Mountain Yellow Legged Frog (MYLF) had not recovered enough and a management plan was implemented to eradicate certain lakes and streams of non-native fish. By 2013, 15 lakes and ponds were eradicated of fish. Over the next 25 years, the Park intends to eradicate another 70 lakes, streams, and marshes to reach a 15% level of fishless habitat. Most of these fish removals are within the higher elevations of the park and many are fishless due to the unsustainability of fish within these waters due to lack of food source, lack of spawning grounds, and shallow depths lacking winter survival during freezing periods.
Many of the lakes within the Western Divide region above 10,000' elevation became fishless without aerial drops..
Josephine Lake: Go 4.5 miles up Cloud Canyon from the Roaring River Ranger Station. The area is called Cement Table Meadow. At this point you need to hike off-trail over Glacier Ridge to Josephine Lake. Josephine Lake is about 1.5 miles from Cement Table Meadow. Contain Rainbows, 9-12"
Roaring River (Cloud Canyon):  Contains Browns and Rainbows 7-12". Golden-Hybrids above the confluence with Cunningham Creek.
Deadman Canyon Creek: Deadman Canyon Creek used to be known as Copper Canyon for a copper mine at the head of it's canyon. A Basque sheepherder was buried just above Ranger Meadow in 1887 by the name of Alfred Moniere and the canyon was referred to "Deadman Canyon" ever since..Mostly Brookies, 7-9 inches
Colby Lake: At 10,600 feet. Consists of Golden/Rainbow hybrids 6-9 inches.
Shorty's Cabin: During the early 1900's until 1960, Joseph Walter "Shorty" Lovelace was a contemporary mountain man that lived within the Sierra year round and trapped fur for a living. Born in 1886, Shorty grew up in Three Rivers with four brothers and a "pioneer" father. In 1911, the family started a compound just north of the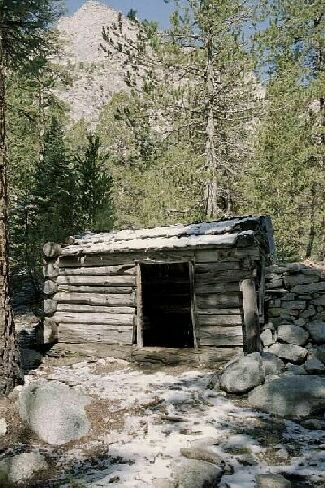 Sequoia National Park in Crowley Canyon. Shorty decided to live there year round to earn a living as a fur trapper and spent the next 50 years as a trapper building approximately 36 small cabins from Tahipite Canyon to Cottonwood Lakes. His primary homebase was in Cloud Canyon. Most of his cabins have been destroyed but the Park Service restored two of his cabins at Cloud Meadow and Vidette Meadow. The cabins (6'x10') are designed for one with a stout nature, like Shorty, a low doorway and low (5'6") roof with a plank bed for sleeping, a rock fireplace and chimney. The floor was made of dirt. Shorty trapped Pine Martens, Fishers, and Wolverines through the Winter months, traveling by foot or on homemade skies. He would use Pine Martin skins on the skies to travel uphill. By the end of the trapping season, Shorty could make up to $2000 annually. In 1940, Kings Canyon National Park was eastablished and Shorty could no longer trap within the park's boundary. So Shorty went into the North Fork of the Kings and trapped there until he was 75 years old. He passed away two years later in 1963.